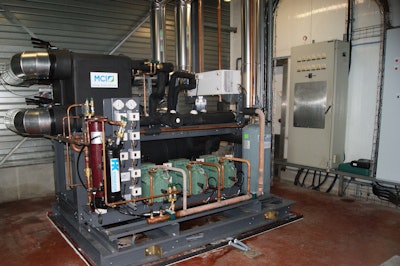 Blédina, a Danone company that manufactures infant foods in Europe, continues to reduce its carbon footprint. The company recently began using bio-based heat-transfer fluids for its new refrigeration system that reduces its energy consumption and environmental impact.
When Blédina sought to replace its refrigeration system at its plant in Brive-la-Gaillarde, France, the company wanted an energy-efficient solution that could minimize its carbon footprint in order to stay true to its mission. As a Danone company, sustainability is part of Blédina's business strategy. Danone recognizes that climate change significantly impacts the food industry. So it works to reduce global warming by helping to contribute to a carbon-free economy. Therefore, Blédina is also committed to reducing its environmental impact. After reducing its carbon footprint by 37 percent between 2007 and 2013, Blédina aims to reduce its carbon footprint by 50 percent by 2020.
That's why the company settled on Greenway Neo heat-transfer fluid from Climalife for the secondary refrigerant circuit when it replaced its refrigeration system. Nicolas Tomaz, technical manager of refrigeration at Blédina, wanted to use a high-performing, sustainable heat-transfer fluid that could save energy and comply with environmental standards ISO 14 001 (environmental management system) and 50 001 (energy management).
The company's previous refrigeration system leaked a small amount of refrigerant gases like R-22, but they were still a significant source of greenhouse gas emissions due to their high global warming potential. In addition, refrigerant losses negatively affect the energy efficiency of a refrigeration system, leading to increased energy consumption.
"Our goal was to replace R-22 with the most environmentally friendly and energy-efficient fluids," Tomaz says.
Greenway Neo heat-transfer fluid is primarily composed of Susterra propanediol from the DuPont Tate & Lyle Bio Products Company. This bio-based glycol is manufactured through a proprietary process that uses glucose from renewable, plant-based sources, including corn, instead of petroleum-based feedstocks. The production of Susterra propanediol generates 56 percent less greenhouse gas emissions and consumes 42 percent less nonrenewable energy than creating petroleum-based propanediol. Compared with propylene glycol, a traditional heat-transfer fluid, Susterra produces 42 percent less greenhouse emissions and uses 38 percent less nonrenewable energy from cradle to gate. In addition, Greenway Neo heat-transfer fluid is free of borax because it is formulated with a new generation of organic inhibitors.
Greenway Neo heat-transfer fluid also generates energy savings for Blédina. The fluid's low-viscosity profile allows Blédina to use smaller KSB pumps, reducing energy consumption. "A reduction in pressure loss of almost 30 percent was impressive," Tomaz says.
Companies in this article