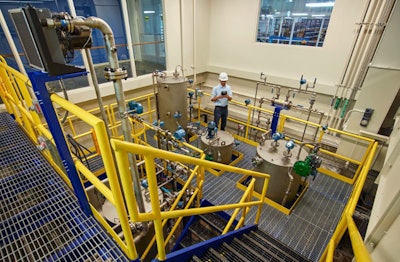 As manufacturers turn their attention to preparing the digital workforce of the future, training is key. Toward that end, Emerson this week opened its Interactive Plant Environment (IPE) within its Rosemount manufacturing facility in Shakopee, Minn. Emerson executives led tours of the IPE as part of this week's Emerson Global Users Exchange in Minneapolis, and the first classes were open to attendees.
Occupying just a small piece of the Shakopee plant's 500,000 square feet, the IPE has space for modern classroom training right next to a two-floor plant environment featuring tanks, controllers, actuators, motors, valves, mixers, lighting, software and more. Students can get up from their classroom seats, don personal protective equipment (hard hat, goggles and steel shoe caps) and go see how what they just learned works in a real plant.
The hands-on, immersive approach radically increases the students' retention of the material, according to Steve Tooley, global education manager, Rosemount measurement educational services. "When you learn by doing, you have muscle memory of how to do something," he said. "Skills don't fade as quickly as with a regular class." Instructors are certified to train on Emerson solutions.
Immersion drives better learning outcomes
The IPE's plant features oil and water batch processes (no steam, which would increase risk). Those processes provide 160 points of measurement, including flow, level, temperature, pressure, weight and analytical, allowing students to evaluate a multitude of technologies and performance characteristics.
"We've designed this process to allow you to see beyond the tank walls and better understand our solutions," said Tanner Rundall, director of educational services for Emerson Automation Solutions.
To increase the realism of the experience, students are given work orders that don't have detailed steps, but are instead based on typical process scenarios and problems. For example, the work order might say a measurement point needs to be checked because it's not performing as expected. The student needs to read a piping and instrumentation diagram (P&ID) to locate where the measurement point is physically located; fill out the necessary safety paperwork, including lock out/tag out procedures; procure the correct tools; troubleshoot the issue; and resolve the problem. Having students perform these work order steps on their own just after completing the theory and bench labs reinforces what they learned, and more importantly shows them how to translate course work to their jobs, Rundall said.
Though there is not much faulty Emerson equipment around, Tooley said, when possible the IPE will collect and display controllers, valves and other equipment that failed in the field. Students will then be able to see and experience for themselves the difference between equipment configured and maintained according to best practices vs. equipment that ran into problems in a live production setting.
Emerson spent $10 million to outfit the IPE, which it hopes to recoup by serving a variety of audiences. In addition to inviting customers to classes, Emerson plans to do employee training in the IPE, which makes sense since virtually every type of Emerson technology—from valves to lights—is being used there. Training courses range from pressure measurement and gas analysis to flow measurement and liquid analysis. Online learning modules further support learning, and the IPE also offers the option of customized training.
Companies in this article