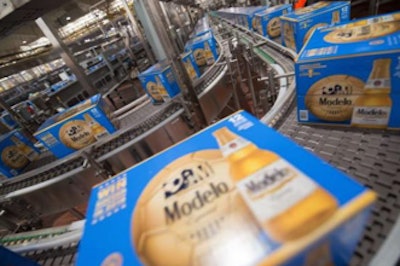 People are passionate about their beer, especially when the products they consume have a history and an authentic taste that has been captured and consistently delivered for decades. Beer like Modelo, Corona and Pacifico, are some of those premium brands that have an emotional connection to the customer. In fact, demand for these beers is growing quickly, especially after Constellation Brands purchased them in 2013 and took over the Nava Brewery in Mexico where these beers are made.
At the time that Constellation acquired the brewery, and invested in building the brands—which accelerated demand—the Nava Brewery was already capacity constrained. "So, it became very clear that we had to invest behind the production side, as well," said Bruce Jacobson, Chief Commercial Officer of Constellation Brands. "In just a three-year window of time, we've gone from 170 million cases to over 240 million cases of beer."
To accommodate this growth, modernization of the existing architecture was required. Constellation turned to Siemens as its global technology provider. And, by implementing advanced automation and control, robotics and a fleet of laser-guided vehicles, the companies worked together to increase brewing capacity from 8.5 million hectoliters in 2013 to now producing 27.5 million hectoliters of beer annually. More importantly, the brewery is maintaining consistency in every batch and every bottle of beer.
Constellation is an example of a company that is using modern technology to meet their customers' changing expectations and demands.
"Time to market is one of the most decisive advantages for corporations today," said Raj Batra, President of the Digital Factory division of Siemens USA. "If they have a first-mover advantage, they capitalize on better profits and better margins." Quality is also extremely important. "In food and beverage, it is more about quality consistency of the product. And [they need] flexibility…Production facilities have to be able to adapt quickly to a mass customized environment," he said.
Bottom line: To sell more beer you have to make more beer, and modernization of systems and infrastructure is playing an important role for companies, like Constellation, looking to use manufacturing as a competitive advantage.
Modernization means having state-of-the-art advanced automation in manufacturing to deal with time-to-market, flexibility and mass customization. "It is also about capitalizing on the Industrial Internet of Things to get a lot more out of the assets on the factory floor" Batra said.
Digitalization, too, which is about taking the data from intelligent devices and machines to create a bridge between the virtual and the real world, is creating business value. "It's upping the decision quality," Batra said. "That really sums up what corporations are looking for today as they figure out how to make manufacturing a competitive weapon as they move into this next era."
The ability to increase production and meet Constellation's goals of increased uptime, efficiency, safety and sustainability, required something else: Global standards. Specifically, a consistent look and feel from an automation and controls standpoint was required in order to avoid deploying black box technologies that were different in Europe vs. the United States, and then having to deal with islands of automation. With Siemens expertise and technology, the team built a global standard that was implemented by over 20 OEMs around the world that are providing equipment to Constellation. So, despite where the equipment was built or purchased, when it came to the brewery it had the same look and feel. This also helped with the ability to operate, service and support the equipment on site.
Constellation standardized on Siemens' PCS 7, Simatic Batch and Simatic Route Control to take care of the brewing process, recipe management and path management from grain in to sending beer to packing lines. On the filling and packaging side, they use Siemens' WinCC for the line overview and visualization. And, in the packaging hall, where cases are loaded onto rail cars, they standardize on Siemens PLCs, I/O, variable frequency drives, network components and process instrumentation. At any given point, they are loading 40 rail cars at a time, and depend on Siemens Scalance Wireless to help run a large fleet of laser guided vehicles.
"The technology innovation at Nava is great. To see the things going on, it's an absolutely amazing facility," Constellation's Jacobson said. "We take customers down there and they are blown away with the size, the scope, the quality of the work that is being done down there, and the speed and the innovation it takes to make it all happen together."
When expanding brewing capacity, it was important to maintain the consistency and quality of the product to make sure it had the same taste profile in every glass produced. "That's where the partnership with Siemens came in. We were able to not only meet our growth demand, but to do so in a way that didn't jeopardize the quality of our products," said Chris Renken, Constellation's director of automation engineering.
The rollout for the expansion happened in phases. The first phase added 10 million hectoliters of brewing capacity and included five packaging lines, plus all of the supporting utilities, including 18 megawatts of power generation. That was completed on time in June of 2016. The second phase added 5 million hectoliters and four more packaging lines and was also completed ahead of schedule in June of 2017. The third expansion is happening now with an additional 2.5 million hectoliters of brewing capacity and three more packing lines on track to start up in the Spring of 2018.
The need to standardize on one automation platform was critical to the success of the multi-phased project. "It was apparent from the beginning that this was going to be a monumental task to do this expansion, and we knew we were going to be integrating dozens of OEMs from around the world," Renken said. "It was important to us to do so in a manner that all of the technology systems and solutions and products coming into the brewery were consistent. We had to develop and formalize a global standard and push that out. This is where Siemens helped in understanding our needs, which helped us to develop a technology platform. But it was also about having the industry experience and the reach to work with our dozens of OEMs to deliver that solution. It is one thing to dream it, it's another thing to deliver it."
The biggest benefit of the work achieved, Renken said, "is being able to meet the capacity demands and expansion milestones and to do that while ensuring the highest quality consistency in every can, keg and bottle."
And there's a whole lot of beer being brewed. "What amazes me every time I walk in here [to the plant], is how much beer we're making and the consumers are demanding," Renken said. "I can't believe people drink this much beer!"
Companies in this article