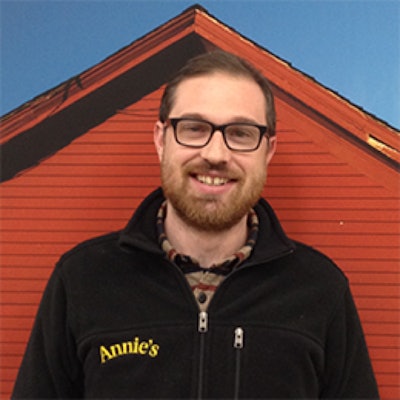 Patrick Keenan, R&D Packaging Engineer, has worked at Annie's for the past four and a half years, including a year and a half before the General Mill's acquisition for $820 million in 2014.
Annie's produces a wide variety of organic offerings including yogurt, mac and cheese, soups and canned meats, frozen foods, baking, dressings, condiments and sauces, as well as gluten-free, low or no fat, and vegan food with a priority to sustainable packaging. "It was built into the mission of the company, thinking about the earth and the consumer," says Keenan.
Keenan is not a machinery or packaging line guy, he is strictly materials, selection and design, working with the brand and supply teams to roll out new packages. He works to develop ideas and implements the scale up plan, testing, etc. An engineer, Keenan has spent eleven years in packaging, first in metal food containers and then wine.
Annie's package design efforts are not guess work. "We get right out there and talk to the consumer," says Keenan. "Annie's consumers preferred no-nonsense labeling with clear ingredients."
It makes sense that an Annie's consumer is interested in sustainable ingredients and packaging. Annie's has a long track record focused on sustainably sourced ingredients and has now built a framework that helps them assess packaging.
"We copied a lot of what we did with ingredients that was so successful, and moved it into packaging," says Keenan. Again, developing a framework to assess various materials and find those suppliers whose products are consistent with Annie's main goal.
"When designing packaging our top priority is eliminating food waste," says Keenan. "Most of our products are shelf stable, we need to protect and keep them fresh as long as possible. Eliminating food waste from spoilage has far greater impact on the environment and is a top priority, followed by end-of-life packaging concerns. So first, any materials Annie's chooses needs to perform for the product, then additional sustainability issues can be addressed such as materials.
"If you are throwing food away that never makes it to the consumer, you are having a far greater impact than just end of life packaging," says Keenan.
Packaging at Annie's runs the gamut from metal and paperboard to glass, plastic, etc. And now, Annie's is using multi-layers of biaxially oriented PE with a vacuum deposited metallized layer for some of its snack packaging. This high-barrier, flexible film would not usually be considered to meet sustainable goals and you typically do not see a very robust collection and recycling infrastructure, compared to paperboard, metal or glass.
Annie's worked with American Packaging Corporation, headquartered in Columbus, WI, to develop the film, and the roadmap employs a unique collection point for consumer recycling—the grocery store. By developing the BOPE structure, the snacks packaging could use the store drop off network as part of the How to Recycle Program using the "Store Drop Off" logo.
"Store drop off is everywhere," says Keenan. "Maybe not the ideal situation, but most consumers have access to that." So instead of entering the waste stream, this film can be returned to the store for collection.
"Everybody has their own story, we feel it is important as a brand to educate the consumers. Based on our mission, and that the brand is trusted by the consumer."
Once consumers learn they can participate this easily, by bringing it back to the store, they want to do it," says Keenan.
Several different industries buy the returned film, right now the biggest single user is Trex who uses it to make faux-wood decking planks.
Keenan will present Annie's roadmap for their successful roll out of the new film in Chicago in March at Sustainability in Packaging US.
The conference is hosted by Smithers-Pira. PMMI, the association for packaging and processing, is a media sponsor.
Keenan doesn't just want to spread the word, he's looking for converts. "We need the system to change and we see this as a key part to the systems change," he says. "I want other brands to see it and use it. I want to help drive the market. The bigger it is the more efficient it will be."