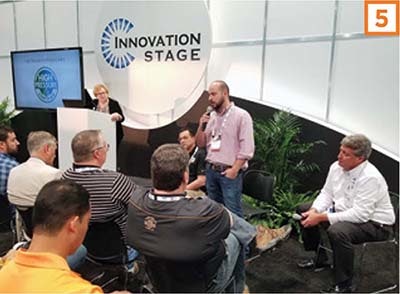 A standing room-only crowd squeezed into the Innovation Stage area at PACK EXPO Las Vegas to learn about "What's new in high pressure processing." A panel discussion, moderated by ProFood World's Editor-in-Chief Joyce Fassl, featured expert insights from Jeff Williams, vice president and general manager of HPP of Avure, a division of JBT; Justin Segel, CEO of American Pasteurization; and Mike Durbin, manager of engineering and plant maintenance for juice producer Evolution Fresh.
"High pressure processing (HPP) equipment has allowed our company to provide clean labels to consumers," said Durbin. "The equipment has also been easy to use and maintain."
Food and beverage companies can apply high pressure processing by installing their own equipment or using a tolling house for the process, said Segel. "In some cases, the tolling house can also serve as a distribution center or warehouse for food and beverage manufacturers," he added.
Williams spoke about the Cold Pressure Council (CPC) and discussed how eligible Cold Pressure Council members can use the High Pressure Certified logo on packages to help identify the benefits of HPP. The logo will be available only to Cold Pressure Council members and only if there's been verification of the proper use of HPP.
The council is establishing guidelines for use of the logo based on members' application categories. Once a member's process, HACCP plan and validation studies are in good standing and verified by a third party, members can license the use of the High Pressure Certified logo. In fact, CPC expects major brands to start using the logo in spring 2018.
CPC has already completed its juice guidelines and plans to complete other product guidelines soon. Certification will ensure the processes already in place are effective and being used properly by companies that want to place the logo on their products.
Consumer education and acceptance is key to the success of the council. Its goal is to educate consumers to recognize the certification logo and to understand the value it brings to food and beverage products. The benefits include increased food safety, longer shelf life, cleaner labels, and stable nutrition and sensory qualities for food and beverage products.
Founding members of the council include American Pasteurization, Campbell Soup, Evolution Fresh, Good Foods, Hiperbaric, JBT, Avure, SUJA, Universal Pure and West Liberty Foods.
Not far from the PACK EXPO Innovation Stage, Avure Technologies used PACK EXPO to introduce its new scalable HPP machine. New model AV-M, like its popular predecessor the AV-X, scales for fast-growing food companies. Avure's Williams and Lisa Pitzer, marketing director, described the technology and demonstrated use cases.
With a slightly smaller footprint than the AV-X, the AV-M enables food producers to buy the machine size that fits their current production needs, and as the company grows, the machine expands to keep up with increased production, all without the expense or added floor space of a second machine.
The AV-M easily upgrades from 20 million lb./year to 30 million to 40 million with the highest possible throughput.
"High pressure pasteurization (HPP) is growing fast, and there are two key factors sparking that growth," Williams said. "First, there is the consumer's desire for clean label, natural, fresh foods and beverages, which is a natural fit with HPP. Second, there are food manufacturers who want HPP's food safety benefits and HPP's advantages of better taste, texture and nutrition. No other food technology provides the same range of HPP's benefits relative to nutrition, safety and shelf-life extension."
According to Williams, if a company is launching a new HPP food or beverage product, the AV-M can be an ideal solution, letting them start in the most cost-effective way possible and expand quickly as demand for their products grows. Williams adds, "Beyond developing innovative HPP machines, Avure, with over 60 years of high-pressure experience, has also helped food companies with HPP product development, HPP recipe R&D, packaging and navigating ever-changing food regulations."
The Cold Pressure Counci Annual Conference will be held June 18-20 near O'Hare airport. Register here.
To learn about some of the other innovative packaging and processing technologies that were featured at PACK EXPO Las Vegas, please read "PACK EXPO Las Vegas 2017 Innovations Report."
PACK EXPO Las Vegas showcased packaging solutions that cater to the demands of the e-commerce market. To learn about how packaging companies help food and beverage manufacturers take advantage of the e-commerce boom, please read "E-commerce taking off."
Robotics dazzled attendees at PACK EXPO Las Vegas. To learn about how robotics are playing an essential role in packaging, please read "Robots continue to grow in packaging."
Companies in this article