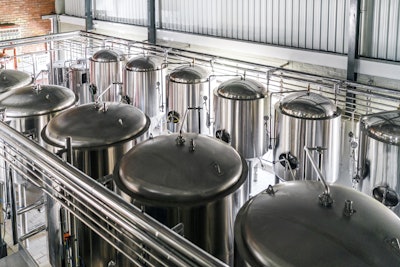 Industry respondents to Beverage Trends in Packaging and Processing Operations, a new report by PMMI Business Intelligence, expect microbreweries to consolidate in the coming years, due to the fact that respondents believe the market cannot adequately support so many different variations of the same product.
• Consolidation will occur through 1) more sophisticated microbrewers taking a larger share of the market; and 2) large beer companies buying up numerous other brands.
• Respondents from large beer producers noted that nearly all beer companies are focusing their expansion efforts on premium and ultra-premium beers, since much of the growth has occurred in this high-end market for many years. They expect this trend to continue for the foreseeable future.
"We thought the microbrew market would get just 10% of the market, but it quickly blew past that and now has more than 15% market share. The number of microbrews will consolidate because there are only so many different flavors of IPA that the market can handle," said one VP Sales, from a large beer company.
For more details about this and other beverage trends and growth, download the FREE Executive Summary or the full report here.
View Packaging World's 2018 Craft Brewing Supplement here.
Source: PMMI Business Intelligence, "Beverage Trends in Packaging and Processing Operations 2018."