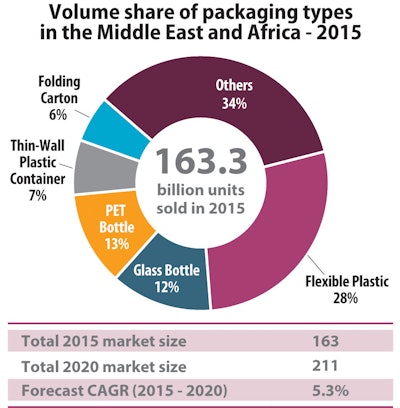 The improving economies of the Middle East and Africa bode well for packaging growth in those regions, especially flexible plastic packaging for ready-made foods, according to the 2017 Global Packaging Trends report from Euromonitor International and PMMI, The Association for Packaging and Processing Technologies.
The report forecasts a 5.3 percent compound annual growth rate (CAGR) in packaging from 2015 to 2020. While packaging growth is increasing overall, flexible plastic packaging is expected to grow at a 5.7 percent CAGR in the forecast period.
Flexible packaging is popular in developing countries because it meets the demand for packaged foods, according to the report. As cities in the Middle East and Africa urbanize, more residents are purchasing packaged foods from new supermarkets and retail shops instead of raw foods from traditional roadside markets. In addition, more women in these countries are entering the workforce. With dual-income households on the rise coupled with the busy lifestyles of people in these households, many families are willing to pay more for the convenience of single-serve and packaged foods.
To read the 2017 Global Packaging Trends report, please visit www.pmmi.org/business-intelligence.
Companies in this article