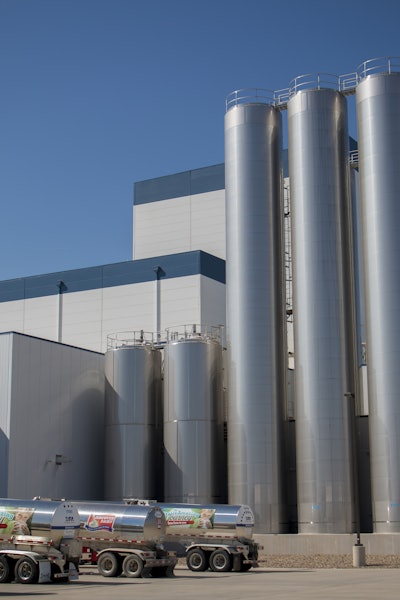 I have witnessed the pinnacle of automated food processing plants, and it might surprise you that it is located in an unassuming, quiet corner of southwest Kansas. The Dairy Farmers of America (DFA) greenfield milk drying facility is strategically located in Garden City, Kansas, close to farms with more than 80,000 milking cows.
As drivers enter Garden City, they can't miss the building holding the largest single whole milk dryer in North America at this new state-of-the-art facility, now part of DFA's more than 40 manufacturing facilities nationwide. The DFA cooperative has more than 14,500 members in 48 states that produce approximately 23 percent of the milk in the United States from more than 2 million cows. Along with its fresh and shelf-stable fluid milk products, DFA produces cheese, butter, dried milk powder and other dairy products.
Before DFA arrived on the scene in Garden City, the land where the new plant stands today was a water-deprived cornfield. Now, the 267,000-sq-ft facility sits on 165 acres and stands 157 ft tall. Designed to run 24/7, the facility can receive up to 84 5,000-gal milk tankers from local farms per day and has storage for 4.1 million lb of milk, 350,000 gal of process water and 240,000 gal of pasteurized cream. The plant can produce up to 7,000 25-kg bags of low-spore milk powder per day.
According to Wesley Clark, director of operations for DFA's Garden City facility, "Our core focus is to bring value to the member/farmer owner members. They are a key strategic initiative for the cooperative." Through its commercial investments, DFA continues to provide a strong and stable milk market for its dairy farmer owners, he adds.
The Garden City location provides a home for local DFA members' milk, which was previously transported to other states, such as New Mexico or Colorado, says Clark. Building a strategically located new plant has allowed DFA to reduce long-haul transportation. Now, farmer/members can move the milk out of the farms quickly. "It gives them more opportunity, and the cost of the transportation is really driven down," states Clark. "It really helps the quality of the milk. We're talking five hours on the road minimum."
The facility in Garden City produces instant agglomerated whole milk powder, instant skim milk powder, 26 percent fat-filled whole milk powder, 28 percent fat-filled whole milk powder, medium-heat whole milk powder and nonfat dry milk. Sold to a vast array of food and beverage processors in the United States, Latin America and Asia, these dry milk products are packed in 25-kg bags and various tote sizes.
Best-in-class technology
After DFA decided on the Garden City location, it sought a partner to build its world-class milk drying facility. "We needed a gatekeeper with a strong sense of ownership," Clark says. "We wanted assurances that what we say we want today gets done tomorrow." Shambaugh & Son met DFA's stringent requirements as a one-stop shop that provides turnkey operations. Working with its long-time architectural partner MSKTD & Associates and building shell contractor McCarthy Building Companies, Shambaugh & Son began construction in September 2015.
According to Alan Low, Shambaugh & Son's senior vice president and project manager, "Building a food manufacturing facility correctly is always challenging, but a plant where individual pieces of equipment span from the ground level, through floors and to the ceiling over 150 ft above them is a whole different kind of mind set."
One of the biggest challenges was coordinating structurally sound sections of the building to be erected to support intermittent major equipment setting, while other sections of the building could be completed around them.
"I specifically remember the day we lifted the 138,000-lb dryer cone to 157 ft above the ground to drop it down into the building to rest on the 72-ft elevation concrete floor with the opening only 6 in. larger than the 38-ft diameter cone. It made me appreciate how valuable 3-D modeling really is," Low recalls.
In addition to the world-class dryer from Tetra Pak, the facility prides itself on high levels of hygienic design. "We've got HEPA-filtered air throughout the areas three, two and one in the plant, which means clean floors, clean walls, clean environment, cleaner than most homes," Clark explains. This dryer has all its air HEPA filtered, and the air environment around the shaking beds are all HEPA filtered.
The air system also handles positive control between departments. "If I'm in packaging, I want positive air. I don't want anything being pulled into that area. I want to be blowing stuff out," Clark says.
Quality and efficiency are paramount to DFA, and it shows in the depth of the machinery on site. The plant does not ever shut down for cleaning. Its state-of-the-art equipment allows it to run and clean continuously 24 hours a day.
"We've got dual pasteurization plates that get changed every 10 hours. We've got three evaporators that get changed every 20 hours. We've got separators that are rotated out every 10 hours, and each one is washed every 10 hours. All these things lead up to the quality in the finished product," states Clark.
Running four Tetra Pak separators and three Tetra Pak evaporators is a tall task, but advanced automation and controls allow only two employees to run the evaporators, silo, wet process and lactose blending.
The facility's production of milk powders 24/7 for more than 20 consecutive days is unique in the United States and represents a major improvement in overall equipment effectiveness. Designing a downstream dryer feed system with rotating evaporators that clean independently during production with a dual high-pressure feed line, high-pressure lance production and a clean-in-place (CIP) management system for this complex project required the development of a much higher level of automation than any of DFA's other milk powder manufacturing facilities, says Low.
"The ability to bring systems on and off production for cleaning, while maintaining a constant process rate through each, necessitated employing different design approaches and equipment," Low states.
Typically, mix-proof valves offer the ability to switch from production to CIP and back without manual intervention. This approach, however, needed to be expanded to allow the ability to bring systems online and offline and, at the same time, feed the same equipment or different equipment without a production interruption. More than 240 Alfa Laval mix-proof valves meet this challenge at the Garden City plant.
Plant infrastructure
The backbone of the facility is the infrastructure of the mechanical systems. Steam, compressed air, HVAC and incoming water treatment can be substantial energy wasters if not designed and integrated properly and can contribute to outside contamination if they underperform or fail.
The plant steam supply is generated by efficient natural gas-fired tube boilers that can provide up to 161,000 lb of steam per hour as needed. Each individual boiler is sequenced by the central control system to supply the exact amount of steam supply for any given demand, with an 8:1 turndown rate utilizing variable speed drives, oxygen trimming, flue gas recirculation, low-emission nitric oxide, nitrogen dioxide burners to reduce the carbon footprint, and internal stack energy economizers that provide heating to the utility rooms during cold months.
The plant's compressed air is supplied by a system of efficient rotary screw compressors with the capacity to provide a total of 3,100 cu ft of air per minute, as needed. Each individual compressor is uniquely cooled by the central refrigeration and equipped with specially designed exhaust and supply air ducting that allows for the automated recovery of compressor heat, zero-loss pneumatic condensate drains, a condensate separator for lubricant recovery and stainless-steel distribution to maintain the plant's hygienic requirements.
The plant's water treatment system is divided into separate distribution networks for treated, domestic and soft water, allowing each stream to be independently managed to prevent overuse.
Shambaugh's engineering team decided to use a centralized ammonia system design. In order to minimize the refrigerant charge and conform to EPA- and OSHA-mandated regulatory requirements, a safe secondary cooling medium of propylene glycol was used to distribute cooling to the process areas beyond the confinements of the refrigeration system utility area. The system was further enhanced with the use of variable frequency drive motors and a centralized control system for precise temperature control.
Complex automation system
Designing an automation system to manage all the complexities associated with downtime prevention and safeguarding for potentially unstable power, the automation team looked for a solution that would be fault tolerant. Rockwell's PlantPAx was chosen as the automation platform to provide a distributed control system built on a common Rockwell Automation platform using standard library objects.
Human machine interface (HMI) applications were deployed throughout the plant via the use of an APC ThinManager software platform that allows for centralized deployment to multiple devices. A centralized, plantwide uninterruptable power supply ensures the automation system continues to function through power surges, outages and brownouts. The plantwide Ethernet network ties the plant floor and the office environment together. This allows for the real-time monitoring and management of production activities.
Dual high-pressure pumps allow the plant to run 24/7. With them, the plant does not have to shut down the dryer, and the temperature swings that occur when starting up the dryer are eliminated. "In this case, we can switch to the other pump without disturbing the dryer. The quality of the powder is improved with the consistency of the temperature. Because of the pump switching and the smoothness of how we can bring a pump online, it keeps the nozzles clean and really improves the quality of the finished product," Clark adds.
Addressing biosecurity
The raw milk receiving area poses one of the biggest risks to the biosecurity of a dairy processing plant. Potential contamination can come from nonpasteurized milk, milk tankers, receiving personnel and the dairy farm itself. To prevent cross-contamination, receiving personnel enter the plant through a different employee welfare and locker room area from the main plant staff. In the event of a required management or maintenance interaction in the receiving area, this staff cannot access the receiving area from the main plant; they enter from the receiving personnel locker area, after putting on additional personal sanitation protection equipment. Space is also allocated for the storage of equipment, spare parts and maintenance repair tools used in the receiving area, further reducing potential contamination from the receiving area to the main plant.
Other stringent facility hygiene features focus on plant attire in the strict work zones. On the plant floor, each employee must wear a uniform and boots in the pasteurized wet floor zone. The dryer area is protected with a key card entry. If employees need to enter the dryer area, they must don special booties. In order to enter the packaging area, workers must put on a jumpsuit over their uniform and wear special packaging room shoes.
"Just because we're in the wet zone with our boots and our uniforms on doesn't mean we're protected," declares Clark. "If we get water on our feet, then we've created a problem. Those boots are controlled, and they're only kept in area three for area three."
A viewing corridor was installed to allow visitors to observe the process plant without entering the hygienically controlled areas of the plant. If an outside individual must enter the plant, a separate red-line area provides appropriate outerwear covers and sanitizing stations.
Another unique hygienic design feature is how the plant has been set up for the drying and evaporation operations to communicate and work together. "We have dryer operators in the control room, but there's a countertop between them and the wet zone staff. There's a clean cutoff between them, so they can still work together," Clark explains. "They're both in the same area, but in different zones."
In addition to robust food safety management and HACCP plans, the facility features an on-site certified lab. It also obtained USDA approval prior to startup and has CNCA certification for shipping to Asia, as well as KDA approval for Grade A status on its cream.
It's all about the people
The plant's headcount is currently 66 people, quite a feat for a 285,000-sq-ft facility running 4 million pounds of milk. DFA recruited nearly all of its hourly workforce locally. Garden City Community College helped with food safety and electrical training programs before the plant started up. "It's getting harder and harder to find qualified people, regardless of the location," Clark says. "But a brand-new state-of-the-art plant can be an enticement."
Alan McEntee, DFA program manager for the Garden City project, worked directly with Shambaugh and says the cooperation of the owners, contractors, and local and state authorities made the project a success.
"I would say the best thing is that the project started on time," as Clark recalls that day in November 2017. "The first load of milk that came in over the scale — that was really neat! Being able to add value to a plant of that size, with a product that's not very developed in the United States — an instant whole milk powder — it was a really good experience," he concludes.
To see how DFA handles wastewater treatment, read "A sustainable and energy-efficent process".
Companies in this article