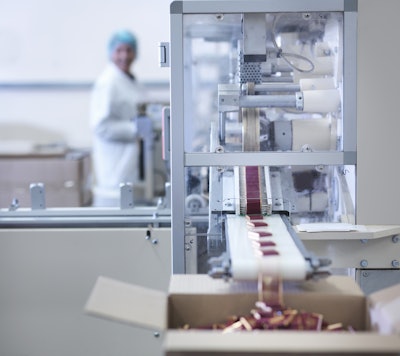 The value of the confectionary machinery market is estimated to have been $0.4 billion in 2016 in the United States; IHS Markit forecasts it to grow with 2.9% CAGR from 2016 to 2021. A rise in health awareness and of the health benefits of consuming chocolate has supported the demand for confectionery products over the past few years.
Jellies and gums are the fastest growing sectors in the US confectionery industry, and the demand for high-value products is increasing. This market primarily deals in chocolate and sugar confectioneries.
Machinery manufacturers need to abide by various food regulations and conditions on procuring ingredients and processing them. Since these high-quality confectionery products are expensive, food regulatory organizations keep a check on manufacturers product to customers as end products with a high sugar content and artificial flavors and colors may be considered harmful.
The rising price of cocoa butter has divided opinion over the production of chocolate. Some leading manufacturers use cheaper alternatives, such as shea butter and palm oil, to partly or fully replace cocoa butter to reduce costs. However, many chocolate producers have been reluctant to use alternatives that are perceived to lack the distinct quality of cocoa butter. The challenge that chocolate producers face is to protect product quality and profitability as production costs rise faster than those of some competitors. The rising price has led to increased efforts to seek alternatives; however, many producers would argue that those that are available do not suffice. Should the price trend continue, it is expected that some producers will reluctantly begin using alternatives to cocoa butter in chocolate production to increase margins. This could result in increased investment in processing equipment for alternative ingredients, such as shea butter and palm oil.
Within the chocolate confectionery market, demand for special coatings for anti-melting has increased over the past few years. This allows consumers to hold the chocolate without melting, and provides a smooth melting texture while consuming these chocolates.
New mold technology trend for 3-D starchless jelly depositing is a process that has been introduced to manufacture complex shapes at high outputs with low production costs. These 3D jellies can be made in various colors such as stripes with layers, soft-center, or solid fills with real fruit pieces, and new designs can be visualized very quickly using 3D printing or CAD. This new mold technology is cost-effective by reducing the capital cost, energy consumption, floor space, and reduced labor force requirements.
The 3D jelly concept will attract new entrants in the market, whereas the established manufacturers have already started adding 3D jellies to their product portfolios as it is a completely hygienic process with a fully automated wash-down function and no recycling of starch and non-contact ejection system.
Source: PMMI Business Intelligence, "2018 Food and Beverage Processing Machinery Report."
Download your FREE executive summary or the full report here.
To see other food and beverage market deep dives click here.