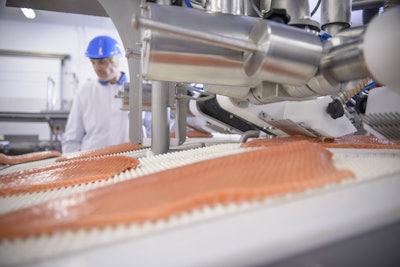 The value of the seafood machinery market is estimated to have been $0.4 billion in 2016 in the United States; IHS Markit forecasts it to grow with 2 percent CAGR from 2016 to 2021. Demand for seafood varies considerably depending on geographical location. Landlocked states tend to consume much less fish per capita than coastal states.
The demand for seafood processing machinery in the United States is influenced by healthy eating habits, including the increased awareness of the health benefits of seafood, such as the presence of Omega 3 Fatty acids in finfish and fish oils, in order to improve brain and heart health.
Food legislation, such as the fish and fishery compliance program by the FDA, provides official marketing standards for fishery products in the country and imposes strict inspection standards on the seafood trade in the U.S. market in order to ensure a high standard of public health protection. Additionally, stricter regulation has increased the cost of machinery maintenance and production, which will bolster future investment in the sectors through, for example, greater demand for machinery that includes cleaning systems and that is more hygienic and more easily cleaned.
The growing incidence of diseases such as heart disease and diabetes, in the United States has caused many consumers to incorporate more fish and fish oil into their diets. Over the next five years, the industry is anticipated to decelerate.
Previously, seafood processing methods were mainly dependent on salting and drying techniques. Those techniques are now being replaced by mechanized methods that have further reduced labor intensive work and promoted safety in the processing industry, which has led to increased sales for seafood processing machineries.
As seafood is highly perishable, to prevent deterioration, proper machine choice and design is essential for processing. Many machine builders are now focusing on developing electronic scales, automatic skimming, computer vision technology, and other advancements to support easier, more flexible and more productive operation.
Source: PMMI Business Intelligence, "2018 Food and Beverage Processing Machinery Report."
Download your FREE executive summary or the full report here.
To see other food and beverage market deep dives click here.