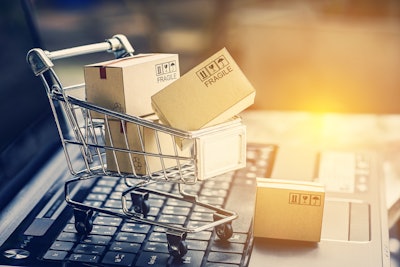 There's no getting around it. E-commerce is here to stay. From baby boomers to Generation Z, a growing number of consumers are purchasing a larger portion of their products online with more frequency. According to the 2018 E-Commerce: Think Inside the Box report from PMMI, The Association for Packaging and Processing Technologies, sales from e-commerce are expected to reach $684 billion by 2020. CPGs can't afford to turn away from the rising tide of online shopping. The report offers some top action items CPGs can take to prepare their facilities and manufacturing supply chains for e-commerce.
Collaborate
• Supplier partnerships: Form close partnerships with suppliers to explore ideas and deliver manufacturing solutions for the on-demand market.
• Logistics providers and warehouses: Work with warehouses to understand their needs to move beyond manual labor and introduce software management systems that provide solutions from product picking to package transportation.
• Fill the skills gap: Design machines to be more intuitive and simplistic, introducing robots and cobots to fill the gap with a less skilled workforce.
Innovate
• Flexible machines: Design flexible machines that rapidly change over to accommodate increasing SKUs as shorter runs become the new normal.
• Right-sizing: Work to reduce packaging, shipping costs and waste. Creating the right size box or shipper is an important consideration.
• Packaging protection: Develop solutions to protect the primary product as touch points increase in the e-commerce supply chain.
Automate
• Automation: Provide automated functionality and integrated solutions to compensate for a lack of labor. Machines need to be IIoT ready.
• Personalization and customization: Build the end of line to accommodate personalized and customized packaging, which adds significant value to the e-commerce experience in the eyes of the consumer and builds brand loyalty.
• Floor space: Innovate full line solutions or end-of-line diversions for e-commerce that comprise compact, modular machines to minimize floor space because automation is pushing real-estate boundaries.
• Subscription services: Companies in the subscription business (for example, meal kits or product of the month services) should develop solutions on how to replace manual operations and introduce more efficient packaging.
For more information about the study, visit www.pmmi.org/report/2018-e-commerce-think-inside-box.
Companies in this article