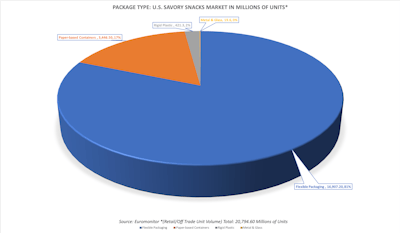 Lays, (PepsiCo Inc.'s Frito-Lay Co.) is the leading savory snack brand in the United States for 2018, according to Euromonitor. Frito-Lay totally dominates four of the top five leading brands delivering 40% of the U.S savory snacks market, including Doritos, Cheetos and Ruffles.
Jack Link's brand from Links Snacks, Inc., holds the number five top brand spot with a variety of protein snack offerings including beef jerky, steak strips, and beef sticks.
According to Euromonitor:
Healthier savory snacks drive significant growth as consumers look to snack better
Puffed snacks is the most dynamic category in 2018 with current value growth of 8%
"Snack mixes continue to draw consumer attention, providing a complex taste experience that is both unique and generally perceived as better for you. Innovations like Hershey's and Reese's Popped Snack Mix, Cheez-Its Duoz and Doritos Crunch Mix have combined well-known snack brands with other snack types to create an entirely new snacking experience that is on-trend with consumers," according to Euromonitor analysis.
Even meat snack brand Oberto Snacks Inc has experimented with this trend by adding meat snacks into a novel trail mix format with Oberto Trail Mix. High levels of innovation in these snack mixes are expected to maintain consumer interest and drive growth over the forecast period," says Euromonitor.
Top savory snack brands like Lays, Doritos and Jacks Links deliver consistent results for loyal consumers with efficient processing and packaging lines.
Join 7,000 of your peers across all food and beverage processing markets, including savory snacks, at ProFood Tech, March 26-28 in Chicago. See machinery, automation and controls and solutions in action from 450 top manufacturers.
Euromonitor provides market insights and analysis from 1,700 research teams based across 81 countries. Get more information here.