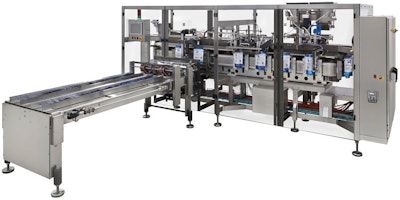 Cloud Packaging Solutions is a leading manufacturer of high-speed horizontal pouching, thermoforming, and filter-pack machinery. As is the case at plenty of other OEMs, management has been listening to calls from the marketplace for automatic size changeover. So, as Vice President of Sales Mike Werner puts it, "We dove into the technologies that would provide us with that capability." (For more on multifunctional equipment and quick changeover, see what machine builders and buyers have to say about how vitally important it is in PMMI's Vision 2025 report here.)
And that's how CloudTRAC, which made its debut at PACK EXPO International last October, came into being. Fully automatic, servo-driven, chain-free, and auto-configurable, Cloud describes it as a revolution in Stand-Up Resealable Pouch machine technology suitable for products ranging from pet treats to confectionery products.
Its key enabler is the iTrak linear servo technology from Rockwell Automation, an approach to motion control that dispenses with traditional mechanics and motor control to enable the independent control of multiple independent movers on straight and curved paths. Unlike machines relying on conventional motion control architecture, which require manual adjustments, change parts, and operators wielding tools to remove one set of tooling before putting another set in, this machine can go from one bag size to another at the press of a button on the control panel. Bags can be anywhere from 4 to 12 in. wide and 6 to 15 in. tall.
A total of 32 independent movers are at work here, though from a functional or operational perspective it's better to think of them as 16 pairs of movers. Each pair is responsible for one pouch, and the pouches are picked, filled, sealed, and discharged two at a time. CloudTRAC comes in two versions, one for pre-made pouches and another that is mated to a Cloud-designed system that forms pouches from roll stock. But in either case, the filling and sealing sequence is fundamentally the same.
Four iTrak movers are positioned in front of a vacuum pick-and-place station to receive two pouches. These two pouches are advanced to a position beneath two pouch-openers that efficiently pull open the tops of both pouches. The iTrak system will effectively "pucker" the pouches during this operation in order to create the ideal opening. Getting the pouch top to "pucker" wide open in this manner would be extremely difficult with traditional motion control technologies based on springs or chains or belts. But for the magnetically controlled movers, it's a walk in the park.
Now the pouches are carried around to the other side of the oval-shaped track beneath a pair of "duckbill" funnels through which product is dispensed. After the fill is complete each mover strokes back away from its paired partner so that the pouch top is nice and tight as it moves next into the heat sealing station. All that remains is for the movers to discharge the finished pouches onto a takeaway chute.
Best of all, when it's time to go to a new pouch size, the operator simply makes a selection from a menu. This causes the guide rails through which bags are fed into the machine to adjust, the pouch staging area that confines the pouch on all four sides immediately before loading to move to a correct position, the iTrak movers to reposition themselves, and the product settling conveyor to move to its predetermined position—all automatically.
Companies in this article