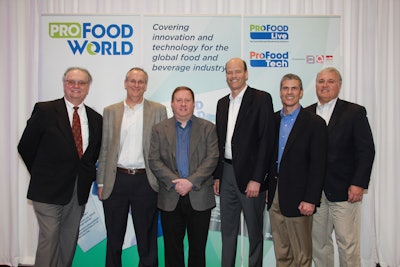 ProFood World honored the winners of its 2019 Manufacturing Innovation Awards at ProFood Tech, where these food manufacturers shared how their award-winning projects use cutting-edge technology and automation to deliver operation excellence to their production processes.
Royal Cup Coffee and Tea was recognized for renovating its coffee bean processing and distribution center in order to bring flexibility, efficiency and cost savings to its manufacturing process. The company specifically invested in equipment and technology that automated manual processes, improved worker safety, enhanced capacity and throughput, and collected data to improve the production process. For example, team members no longer have to carry heavy 132 lb burlap bags filled with green coffee beans into the facility or hand-cut the bags to release the beans from the bag. A conveyor now reaches into the trucks, where employees simply lift and put them onto the conveyors, which convey them to an automatic slitter. The company can now unload 40,000 lb of coffee beans in one hour; the previous unloading process took about four hours for employees to manually unload 40,000 lb of beans. Royal Cup also invested in more silos for storage that allows the plant to run for 24 hours and increase throughput. In addition, automation software monitors equipment performance and collects data that helps Royal Cup enhance traceability of the products, reduce product loss and maintain the quality of the coffee beans.
HP Hood won a Manufacturing Innovation Award for converting a cultured dairy products facility in Batavia, New York, into a technologically advanced plant that produces and packages fluid milk for extended shelf-life dairy beverages. The renovation included installing the newest technology to upgrade and advance HP Hood's dairy facility control systems. It included rewriting PLC code to support ControlLogix PLCs, Factory Talk View SE, Historian and Plant PAX, as well as upgrading to Ethernet I/O and Device Level Ring technology. HP Hood also upgraded the logging and tracking system for its raw milk pasteurizing systems to comply with FDA regulations. Packaging enhancements included putting accumulation on the packaging systems to maximize overall equipment effectiveness and building a digital twin simulation model to rightsize the accumulations.
Just Born also earned a Manufacturing Innovation Award for installing integrated delta robots with end effector tooling that can grip and package its single PEEPS Chicks marshmallow treats without damaging the delicate product. Just Born previously hand-packed the PEEPS Chicks, a very labor intensive process. After meeting JLS Automation at a trade show, Just Born worked with JLS to create a robotic pick-and-place system with finger-like grippers dexterous enough to gently pick up the tender PEEPS and place them into carton packaging.
For information about the Manufacturing Innovation Awards, please visit https://www.profoodworld.com/awards/mia.