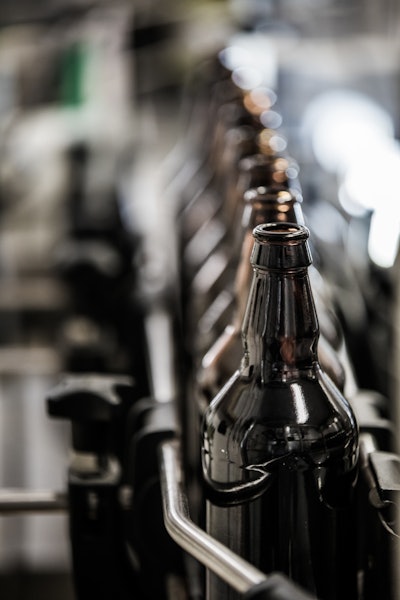 Manufacturing industries today are very interested in the topic of automation, and craft beer and spirits producers are no different. According to a new white paper by PMMI Business Intelligence, "Craft Breweries and Distilleries: Machinery and Automation Trends," most craft producers are semi-automated – working within budget and space constraints toward a hybrid solution that allows them to grow production at a conservative rate.
62 percent of participating small and medium enterprise brewers and distillers say they will increase spending on capital equipment in the next two years.
One of the first manual tasks craft producers automate is filling. Manual filling is laborious and can result in the loss of significant amounts of product. By automating with a small, mobile filling line, production speeds are increased, human resources are freed to be used elsewhere, and product loss due to human error is limited. Said one brewing packaging manager from Ohio, "Our entire focus is on minimizing product losses and preventing over-filling."
Another top task craft beer and spirits producers seek to automate is labeling - one of the most time-consuming manual processes, and one that can also result in significant material loss due to human error. Air blowers are also considered for automated labeling lines, to reduce excess moisture on the package.
Craft producers look for OEM partners who understand their production process and offer advice on where to gradually implement affordable automated machinery to improve efficiency. Said one brew master from New Mexico, "Our greatest challenge is how do we scale up in manageable steps while continuing to be responsive to delivering orders quickly."
Full automation is not a normal business model for small to medium craft producers, but for those with aggressive growth, automation of other areas of operation such as secondary packaging and palletizing are also considered.
77 percent of participating brewers and distillers foresee automating some manual operations for washing, accumulating, filling, capping, labeling, and end-of-line packaging to improve output and reduce labor.
To learn more about craft beer and craft spirits markets, download the FREE white paper here.
Source: PMMI Business Intelligence, "Craft Breweries and Distilleries: Machinery and Automation Trends."
Learn more about craft brew and craft spirit packaging solutions at PACK EXPO Las Vegas, Sept. 23-25, 2019.