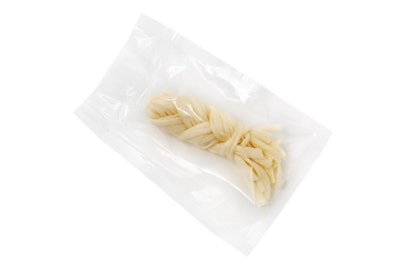 Benefits of high-performance films include product transparency, extended shelf life and enhanced flavors. According to the 2019 Flexible Packaging Assessment Report by PMMI Business Intelligence, manufacturers use these films because they desire thinner materials that don't compromise the overall barrier, functional properties or strength of the package.
Demand is growing for transparent barrier films that can replace the aluminum foils currently used on laminate structures, allowing the product to be seen. Also, items that were formerly packaged in rigid containers are transitioning to high-quality flexible packaging, such as microwave-compatible pouches.
These improvements in the barrier properties of clear plastic films attribute to flexible packaging's ongoing replacement of glass and metal packages, particularly retort and hot-filled product packaging.
Companies who participated in the report also mentioned modified atmosphere packaging (MAP) when looking to extend shelf life of perishable fresh produce, such as fruits, vegetables and flowers. MAP modifies the atmosphere food is packaged in to reduce spoilage and increase shelf life without using additives. Coupled with high-performance films, MAP provides manufacturers excellent mechanical strength and chemical resistance against the growth of bacteria. MAP is also useful for packaged foods such as meat and baked goods.
Download the free executive summary of this report, or PMMI members can download the entire report here.
Source: PMMI Business Intelligence, 2019 Flexible Packaging Assessment Report.
Learn more about flexible packaging solutions and machinery at PACK EXPO Las Vegas, Sept. 23-25.