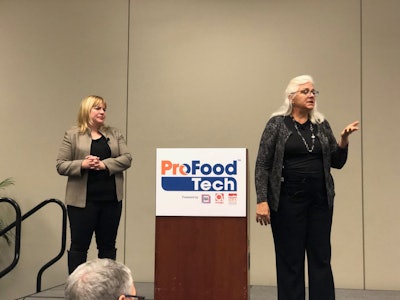 It's always interesting to hear from different generations of women who work in manufacturing, as we can't help but wonder how much has changed over the years?
Well, according to research from the Society of Women Engineers (SWE), not much has changed when it comes to the numbers. Specifically, the number of women in engineering professions in the U.S. has not increased since the early 2000s. So, it's no surprise that over 32 percent of women switch out of STEM degree programs in college and only 30 percent of women who earn bachelor's degrees in engineering are still working in engineering 20 years later. In the current workforce, only 13 percent of engineers are women.
Wait, there's more. SWE reports that female engineers earn 10 percent less than male engineers and 61 percent of women engineers report that they have to prove themselves repeatedly to get the same level of respect and recognition as their colleagues.
Someone who knows what it feels like to be the only woman in a classroom or a company conference room is Diane Wolf, who has over 35 years of experience in the consumer packaged goods (CPG) industry having held key global positions in engineering, manufacturing, product development and capital procurement for Kraft Foods. Wolf's most recent role at Kraft was as a senior operations executive, and now she works as a consultant to the food and beverage industry.
It's not been an easy road, Wolf admits, as the male-dominated manufacturing industry is not a very welcoming place for young women coming out of engineering school—or even in school.
"When I graduated from engineering school there were seven of us [women]," Wolf recalls, noting that there weren't even any women's bathrooms in the engineering department at the college at the time, so they had to convert a faculty bathroom. "The world has changed, yes it has, but we still have a long way to go."
Wolf was speaking to an audience of over 120 women (and men) at the PMMI Packaging & Processing Women's Leadership Network (PPWLN) breakfast which took place during the ProFood Tech event in March. The theme of the interactive networking breakfast was "leading change," and featured two speakers, Wolf and Karen Norheim, the executive vice president of American Crane & Equipment Corp., a manufacturer of cranes, hoists and material handling equipment.
Norheim, who has 16 years of experience in the manufacturing industry, is a second generation leader at the company, recruited by her father into the family business. She now oversees the day-to-day operations of a 180-person manufacturing facility, but she's struggled, too, with being the only woman in the room, she said, as well as with the "boss's daughter" complex.
But she pushed through and even worked to evolve the company in an effort to reinvigorate employee morale, diversify and strengthen the team, and to reach out to new customers. She's "rebooted" the company culture with a new mission and core values which is encapsulated in the new company mantra "Grit Matters: Perseverance, Heart & Integrity."
While Norheim has made progress at her own company, she agrees with Wolf that there's a long road ahead for women in manufacturing as "we are still in the trailblazing phase," she said.
But the two speakers offered some guidance to the women in the room who are just starting their careers or are mid-career in the packaging and manufacturing industries. The key message: It starts with you.
Wolf's wisdom
The first thing anyone should do when entering the workforce is to "know and be known in your industry." Do your research, understand who your competitors are and the issues in the industry. And then "be known" by engaging with committees or volunteering to speak or present at industry meetings, for example.
Her second point is to pay it forward by doing things that will make it a more welcoming place for women coming out of STEM programs and into your company. "You pay it forward by helping them, because we are here on the shoulders of the women who came before us."
Lastly, network, network, network. "We all have the tendancy to think, do a job well and the rest will happen naturally. That's all true, but sometimes you need a little help when you are the one and only," Wolf said.
Early in one's career, some make the mistake of putting their heads down and focusing on work. But also focus on the internal aspect of the company. Build an understanding of how things get down, of the people and of the culture. Mid-career, you may have a family, you may be traveling too much and working too hard, but this is the time to start networking outside of the company. Find groups that expose you to other companies and look for opportunities to stand out, as it could get you ready for your next career move. "Raise your hand and start practicing leadership skills," she said.
Once you are in your late career, this is the time to lead external organizations, such as being on the Board of a not for profit organization. Establish a broader sense of yourself, which could set you up for a second or third career.
And, it's all worth the effort. Wolf said she was recently asked if, as she looks back on her 35 plus years in the business, she would do it again. "Absolutely," she said. "It's been an awesome ride."
Norheim's knowledge
It's only been a year since the launch of "Grit Matters" and American Crane & Equipment is already seeing real results with less than a one percent employee turnover. The culture change included lean initiatives to increase efficiency and better communication between departments. "We've tapped into more of the human potential," Norheim said. "Bottom line, this translates into a better customer experience…and increased revenue and increased profitability."
But it's still a work in progress. So she proactively takes on roles that will help attract more women to the company and the industry. "I go out and spread the word of why our industry is a great place to work."
One way she does that—which goes along with Wolf's advice to network externally—is to take on additional responsibilities. For example, Norheim is the current Chairperson for Women in Manufacturing, a 2,000 plus member organization with a mission to support, inspire and promote women in the manufacturing industry.
What she's uncovered along the way is that women can bring a different perspective and can help add to a company's cognitive diversity. "We all have these things that make us who we are; family, upbringing, relationships, gender…all of these things come together to give us a unique perspective. If we leverage that we can create an environment of cognitive diversity so that we can solve problems better, we can have a competitive advantage and we can see more. Women are a great way for a company to add to their cognitive diversity," Norheim said.
Lastly, Norheim asks that we all create a "ripple effect." She was influenced early in her career by a woman on a panel at a conference. "She doesn't know who I am and she doesn't know the impact she had, but by acting as a role model she created a ripple effect that touched me."
Role models inspire us and give us a vision of what is possible. "Be a role model," Norheim said. "I argue you already are…Leave a little sparkle wherever you go. You never know who you might touch."
Companies in this article