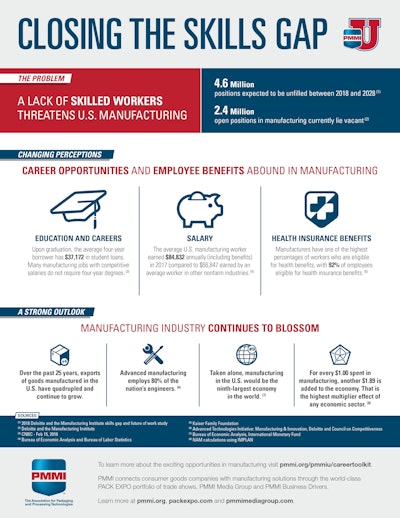 The U.S. manufacturing industry is booming. But it's also facing a major hurdle: the growing skills gap. According to a 2018 study from Deloitte and the Manufacturing Institute, the gap will continue to widen, with 4.6 million positions unfilled between 2018 to 2028. Currently 2.4 million positions in manufacturing remain vacant.
PMMI, The Association for Packaging and Processing Technologies, created PMMI U to help recruit and retain skilled talent. It also offers educational programs for the current and future manufacturing workforce to enhance their skills and prepare them to take on the demanding and evolving needs of today's manufacturing plants.
For more information about PMMI U, please visit https://pmmiu.org/.
Companies in this article