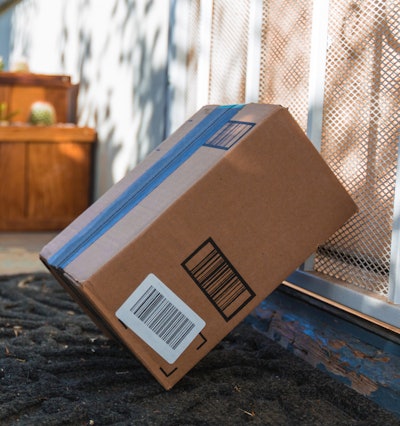 A new 20-page white paper from PMMI Business Intelligence, "Omnichannel Retail: Operating Harmoniously in an Integrated, Digitally Enabled Supply Chain," addresses how CPGs and 3PLs are changing packaging to serve omnichannel demands.
Smart Packaging
For the warehouse, internal order tracking is one of the most crucial capabilities associated with an effective omnichannel model. Automated conveying and advanced sensing technology are important aspects of internal tracking, but when it comes to fulfillment, companies are considering smart packaging.
The expansive and comprehensive management systems being utilized by omnichannel companies are increasingly being deployed in warehousing operations, opening the door for smart packaging solutions.
At its core, smart packaging allows an omnichannel company to more accurately keep track of products as they move through their organization, especially during the fulfillment process. Imbedded technology in the package, such as RFID and NFC (near field communication) capable components, enables omnichannel companies to track a product's journey. This gathered data is in turn managed by a larger integrated system, which not only allows for wireless product tracking, but also gathers and logs valuable data points for future efficiency analysis.
"We have incorporated smart communications and QR codes at the consumer level and are using NFC on a limited basis for pallets," explains one consumer health care products manufacturer.
"We are using an advanced vision system more frequently for quality inspection and code verification and are applying the data collected to streamline our process," says a manager for a grocery retailer.
Smart labels, especially QR codes, serve a similar function by enabling internal tracking, but also connect omnichannel companies more closely with their customers. QR codes embedded in the package printing are being used for product tracking, as well as consumer engagement through a smart device.
An e-commerce consultant remarks, "Mining customer data and historical logs is big now as orders from cell phones and smart tablets are soaring – the customer is king."
See Packaging World editor Anne Marie Mohan's coverage of the Active & Intelligent Packaging Summit Americas June 3-4.
No Waste Packaging
While tracking technology plays an important role in warehouse management, there are other packaging considerations that omnichannel companies are exploring. With the growing number and variety of orders, omnichannel operations are placing new emphasis on the size of their packaging.
One possible right-sizing solution being explored by omnichannel companies is adopting a box-on-demand model for order fulfillment. Utilizing this strategy, omnichannel companies make use of a machine capable of forming carton sizes to exactly the right dimensions for a chosen product. This model still remains a situational proposition, as a senior director of packaging at a retail leader confirms: "A box sizing solution works in some cases, but not in all; it's often difficult to operate and slower throughput is hindering wider adoption." As box-on-demand technology continues to evolve, this strategy could allow omnichannel companies to cut down on material and shipping costs by creating a package devoid of excess material and space.
Functional Packaging: Primary Packaging as the Secondary Carton
Some omnichannel companies are taking the concept of right-sizing and expanding upon it to reduce shipping and material costs even further by completely bypassing traditional secondary package models. Rather than utilizing additional material for shipping, omnichannel companies have begun exploring ways to make a product's primary package suitable to serve as the secondary package for fulfillment and handling.
Download your FREE whiter paper here. To see our coverage of E-commerce in Packaging and to download a FREE executive summary of a larger report, "E-commerce 2018: Think Inside The Box," click here. PMMI members can get the entire 57-page report for free here.
Make plans to visit PACK EXPO Las Vegas, September 23-25, for machinery and materials to tackle your e-commerce and omnichannel challenges.