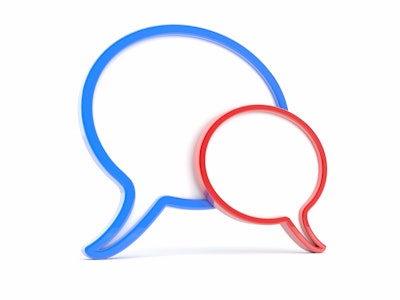 E-commerce disrupts:
"The on-demand satisfaction consumers want from e-commerce shopping is driving the need for new manufacturing practices, packaging changes and ultimately, equipment advances." --VP Packaging R&D, Food manufacturer
"Order online and pick in store is the fastest growing omnichannel ordering model, with growth anywhere from 40% to 60%, depending on the product." -- Industry Analyst
"Everything must now be connected: order processing, inventory management, and supply chain tracking, to ensure timely delivery to the consumer." -- Director of e-commerce, consulting firm
"The goal is to ship smaller and smaller quantities cost efficiently, which means we need to make changes as quickly as possible to retailer requests." -- Packaging Engineer, Supplements
"We are adding new products to satisfy partner relationships." -- Product manager, Personal Care CPG
"It affects our overall approach and changes our entire production system." --VP Operations, Operations
Problems:
"Pack counts are killing us. Every retailer wants something different, so we are implementing robotics to better manage packing a wide variety of sizes and configurations." -- Senior Packaging Engineer, Food company
"Single wrap products are increasing along with a greater variety in case counts, which is driving automation at the end of the line." -- Project Manager, Personal Care
"A box sizing solution works in some cases, but not in all; it's often difficult to operate and slower throughput is hindering wider adoption." -- Senior director of packaging at a retail leader
Solutions:
"We have only one or two people on a line now where we are using robotics, and in the past we had up to 20 workers." -- Leader, Personal Care
"We have incorporated smart communications and QR codes at the consumer level and are using NFC on a limited basis for pallets," -- Manufacturer, consumer health care products
"We are using an advanced vision system more frequently for quality inspection and code verification and are applying the data collected to streamline our process. " -- Manager, Grocery Retailer
"Mining customer data and historical logs is big now as orders from cell phones and smart tablets are soaring – the customer is king." -- Consultant, e-commerce
"We are designing systems for seamless ordering and speed of delivery; competition is driving everything!" -- IT Manager, leading retailer
Logistics outbound and returns:
"The omnichannel disrupts the normal process and involves special handling and packaging. The product has to appear as if it originated from Walmart or Home Depot even if it's shipped by a third-party warehouse." -- President, Logistics company
"Companies need multiple channels for returns and customer service needs to leave an excellent impression to maintain a loyal customer." -- Consultant, e-commerce
Package Design and Branding:
"We want each product to aesthetically belong to a family of products and in the next five years we will harmonize the brand together to achieve greater uniformity." --Senior Packaging Engineer, Healthcare CPG
"Companies are striving to unify product brands with consistent use of colors, images, logos, and artwork across the entire platform of products, but cost still remains the driver." -- Owner, Packaging Design Firm
"We are working with our e-commerce engineer to develop new shapes and sizes to the primary package for added protection during shipment." -- Senior Packaging Specialist, Over-The-Counter CPG Manufacturer
The Future Unfolds…
"We want to be transparent across the entire operation with integrated systems and equipment. New projects will be automated and seamless but we're not there yet." -- Senior Packaging Engineer, Personal Care
"The greatest challenge ahead is being able to predict the demand and the delivery destination for every product. We need a system that is visible from the materials coming in all the way through to the timely delivery of our products." -- Plant manager, snack foods
"Our new ERP system is key and we need to learn how to use the data properly; we are training on the new software now with our strategic supply chain partners." -- Business Development manage, personal care
"We are opening our inventory tracking system to strategic suppliers now and it's working well." -- E-commerce manager, CPG
"Start thinking of line solutions for the challenges we face versus just machines; e-commerce is changing the market." -- VP E-Commerce, Industry Leader
Source: PMMI Business Intelligence, "Omnichannel Retail: Operating Harmoniously in an Integrated Digitally Enabled Supply Chain."
Download your FREE whiter paper here. To see our coverage of E-commerce in Packaging and to download a FREE executive summary of a larger report, "E-commerce 2018: Think Inside The Box," click here. PMMI members can get the entire 57-page report for free here.
Make plans to visit PACK EXPO Las Vegas, September 23-25, for machinery and materials to tackle your e-commerce and omnichannel challenges.