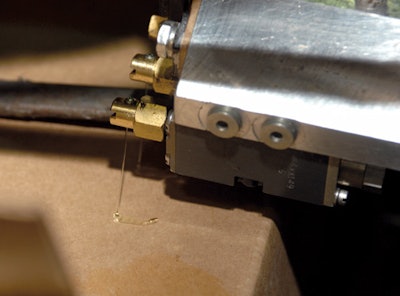 B&G Foods, based in Parsippany, NJ, is a shelf-stable foods producer that owns brands such as Ortega, Emeril's, Vermont Maid, Underwood, and Regina. It has five production centers and five distribution facilities.
The 200,000-square foot Hurlock plant produces pickle and pepper products, hot sauces, and the Polaner brand spices. The facility runs two shifts per day, five days a week. It packs 5 million cases per year and each one must be sealed with adhesive. A reliable, efficient, cost-effective and safe package sealing system is critical to the operation, especially during harvest season in July, August and September when 25,000 to 30,000 cases are packed daily, explains production manager Carl Gilbert.
But the old case/carton sealing system fell short on every count. The hot melt adhesive, heated to 350ºF, would char, making it thick and globby, which would then clog the equipment. Workers had to constantly monitor the carton sealing operation and try to clear the system filled with super hot adhesive or change plugged nozzles when there was a problem.
This could at times present safety issues. It also consumed as much as an hour, shutting down the entire production line, explains Gilbert, and it happened a number of times every week. It seriously impacted production if the product packing side of the line also had to be interrupted. To reduce clogs and part changes, the workers drilled out the nozzles for greater flow, but this meant more adhesive usage, he added.
With strong volume/production demands, B&G management found this situation unacceptable and decided to look for a better way to seal product cases. They called in Delco, their independent distributor for label and packaging adhesives, for a consultation. After an analysis of the company's problems and needs, Delco recommended an all-in-one sealing solution that included new application equipment and a low-temperature hot melt called Easy-Pac® Package Sealing Solution by National Adhesives, a division of National Starch and Chemical.
Easy-Pac is an integrated, closed system incorporating a hot-melt dispensing unit, auto-fill vacuum feeder, new hoses and nozzles, convenient adhesive storage bin, and high-stability, char-free hot melt adhesive that operates at 200º F, a temperature said to be the lowest in the industry. The system hardware is provided free-of-charge to customers purchasing the Easy-Pac adhesive used in the system.
There are now seven Easy-Pac systems installed at B&G Foods' Hurlock plant. The system benefits started immediately at installation, according to Harmon. "All we did was plug hoses together, hook it up, fill the reservoir and set the temperatures," he says, adding that installation took less than two hours. "I didn't even realize it was fully heated up because it didn't really feel hot."
Morning start-up revealed further benefits. The new equipment heats up and is operational in half the time of the old system, says Harmon. With the former equipment, if employees found it plugged up in the morning, they had to take the time to clean it, replace parts, drill out the nozzle, or do whatever necessary to get it running. This process could be time-consuming. "Now I just turn on a switch and forget it," explains Harmon. "All the foremen love the new system."
Simplified maintenance
Maintenance crises throughout the day are also a thing of the past. "We had to do repairs an average of three or four times a day with the old system," says Harmon, adding that the entire production line would be down for 15 minutes to an hour each time. There have been zero repairs since they installed the Easy-Pac system.
Easy-Pac is simpler to operate for workers, says Gaines. The old system had a small adhesive reservoir, and when it ran out, a half-hour was needed to fill up the reservoir and heat it to 350º F. This occurred at least once or twice a week, he explains. Now he fills the huge reservoir in the morning with the dry Easy-Pac adhesive pellets, and the machinery automatically pulls what it needs and melts it in a closed system for application on the packaging. "I don't have to worry about it the rest of the day," he says. "I'm free to handle other duties."
With the elimination of constant equipment repairs, adhesive reservoir refills, and monitoring, the production line downtime has decreased tremendously and worker productivity has increased to the same degree, says Gilbert. That means a substantial savings in labor.
But there are other major cost savings as well. According to Gilbert, the company saved $7,000 on adhesive expenses alone in the first six months of 2007. He explains that the new adhesive is more expensive per pound, but since they're using less of it, the adhesive bills are lower than in the past.
In addition, there is no cash outlay or investment in machinery required, since the Easy-Pac system is provided at no cost to manufacturers using the Easy-Pac adhesive. This is a $10,000 to $12,000 value. Gilbert says the company has seen a major savings on repair/replacement parts, which are provided free of charge for three years. And there is a savings on the energy bills, since the system warms up quicker and requires less energy to maintain the adhesive at 200º F than 350º F.
This lower temperature makes a difference in the heat index on the plant floor in the summer too.
In fact, unlike in the past when there could be uneven adhesive applied to the package flap surface, Gilbert says they're getting good sealing on the cases using less adhesive. "The compound is designed to flow at lower temperatures, adhere more quickly and cool off more quickly," he explains. In addition, the new adhesive performs equally well in the hot weather and the cold winter weather, providing a reliable seal no mater what season it is, says Gilbert. "We haven't had a single customer complaint about cases opening up during shipment."
And then there is that safety issue, too. "Operators can be more comfortable doing their jobs," says Gaines.
Maintenance electrician Gary Wilckens agrees. "Life is a lot simpler now," he says. "Easy-Pac is as easy to operate as the lights."
Companies in this article