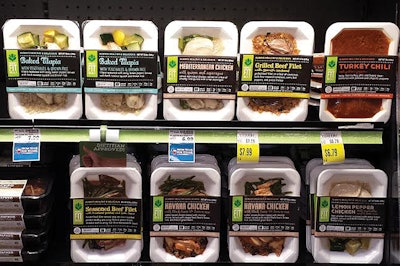 Perfect Fit Meals started in 2010 with hand filling of ready meals in plastic trays. Refrigerated shelf life was five days, and distribution—which was limited, to say the least—was by way of direct selling to health clubs and smoothie stores where customers pulled product from Perfect Fit's own coolers. Now, less than four years later, Perfect Fit is leveraging the latest packaging technology to distribute its healthful, balanced, dietician-designed, convenient, multi-component, and right-sized ready meals to hundreds of Kroger stores not only in its home state of Texas but also in Michigan and soon in other states, too.
Some of this growth can be attributed to Director of Operations Jasmine Sutherland, who joined the firm about six months after it was launched. With degrees in Culinary Arts & Nutrition from Johnson & Wales and prior experience not only in dietetic work at the University of Houston and Texas Children's Hospital but also in the production of fresh ready meals, her assignment upon joining Perfect Fit was to secure USDA certification and grow operations. Funding for the growth part came from Creeris, the Houston-based venture firm that creates, funds, and operates under its control companies like Perfect Fit Meals.
At the time Sutherland arrived, Perfect Fit filled thermoformed polypropylene trays by hand, snapped on a PP lid, loaded the product into its own vehicles, and brought the product to its own refrigerated coolers in health clubs and other nutrition-conscious outlets in Houston. Shelf life was just five days.
"One day," says Sutherland, "our passionate and persuasive sales person went into Kroger with a bag of meals and said, 'You should sell these, they're very good.' And Kroger said yes."
To fit into the Kroger system, however, more than a five-day shelf life was needed. So a two-up Multivac T 300 tray sealer was purchased so that trays could be evacuated and backflushed for shelf life extension. Also changed was the rather rudimentary polypropylene tray and snap-fit lid. In came a CPET tray and a flexible film lidding material that included a layer of EVOH for better gas barrier. With these improvements, shelf life went from five days to two weeks.
Linerless labels
Another intriguing step forward at this point was the installation of a linerless pressure-sensitive labeling machine, the Nobac 500, from Ravenwood Packaging. Sutherland explains the appeal of linerless labels.
"As our volume of production started to grow, so did our distaste for the release liners that are an indispensable part of traditional pressure-sensitive labels. Not only did it feel wasteful, it made a mess. So when we encountered Ravenwood at an FMI show in Dallas and watched their system in action, we knew it was the solution we were looking for. With them being based in the UK and our company being so small, it was a big leap of faith on our part. But we went with it because it seemed like a truly green labeling solution. It also helped that we were able to get a pre-owned and refurbished machine, which kept the cost down. Plus the machine rolls on and off a line very easily. And it gives you a number of options on the label format you want. It can do a full wrap, a partial, a C-wrap, or a top label."
Hub Labels is the label converter that supplies Pefect Fit with its linerless labels. Hub first runs an 8-pt paper stock through an eight-color flexo press that delivers UV-curable inks to both the front and back of the label. On the front, of course, are attractive graphics, Nutrition Facts, and heating instructions. On the back in just black is a QR code for consumer feedback purposes plus an eye mark. The printed roll is then fed into a coating system made by Ravenwood that pattern coats the back of the label material with adhesive. The front side gets a silicone release coating in a pattern that matches the adhesive pattern on the back. This is what makes the absence of a release liner possible, because when labels are wound into the roll that will be mounted on the Nobac labeling machine, the only part of the front side that meets with the adhesive on the back is the part that has silicone release coating. Without this coating-to-coating match, the presence of adhesive would make label unwind impossible.
Another interesting part about the Ravenwood concept that makes it quite unlike conventional pressure-sensitive labeling is that when labels are mounted on the Nobac labeling machine, their orientation is wide side leading. As the roll of labels is unwound, a sensor detects the eye marks on the back and signals the labeler's Mitsubishi PLC to halt the advance of the label material so that a guillotine-like blade can cut one label from the continuous roll. This label is captured by belts that carry it under a thermal transfer print head from ICE for date coding. The belts then carry the label onto the pack where plows and a top-pressure belt apply it to the package.
'Our next evolution'
So there sat Perfect Fit Meals, in 2012, with MAP making it possible to penetrate Kroger stores throughout Texas. "We used distributors who were already picking up other short shelf-life products," says Sutherland. "They back up to your dock and out goes your fresh refrigerated product to 125 stores. But then we started getting inquiries from out of state, including Colorado. So we brought samples there and quickly learned what happens when you expose a MAP package backflushed with gas to a high-altitude environment. The gas expands and you experience seal integrity problems. So we knew it was time to start planning our next evolution in packaging. It was the only way to expand out of Texas."
Enter Cryovac Simple Steps vacuum skin packaging from Sealed Air.
"I have always liked VSP because the in-store presentation is so attractive, so sharp and clean," continues Sutherland. "That's why you see it expanding in Europe. One of the nice things about the Multivac T 300 we had at that point in our development is that you can modify the machine from MAP to VSP at minimal cost and in a brief period of time."
So the T 300 was modified and Simple Steps VSP replaced MAP. Like other VSP concepts, Simple Steps consists of a preformed tray and flexible film lidding. The tray is thermoformed by Sealed Air joint venture partner Mullinix from a PP sheet that Mullinix extrudes. Prior to thermoforming, Mullinix laminates to the PP sheet a substrate extruded by Sealed Air that includes an EVOH gas-barrier layer. This substrate also has properties in it that make the finished package capable of self venting in the microwave oven and that permit easy-peel opening once the four-minute cooking time is complete.
The other key component in the Simple Steps concept is the clear lidding material applied to the tray. Extruded by Sealed Air, it includes an EVOH layer for gas barrier and incorporates sealant and self-venting properties that complement those in the tray. As the food heats in the microwave oven and begins to produce steam, it causes the lidding material to expand dramatically to form a small dome over the tray, and in this dome the food is steamed evenly and thoroughly. Just before the four-minute cooking period is complete, the lidding material self vents so that the package doesn't burst.
30-day shelf life
Simple Steps VSP gave Perfect Fit a refrigerated shelf life of about 30 days, which allowed expansion outside of Texas. But 30-day shelf life was not just a function of VSP. Also entering the picture at this point was High Pressure Processing (HPP), which is done by a toll processor in Texas. It applies up to 87,000 pounds of hydraulic pressure per sq in to completely eradicate harmful bacteria without the need for chemicals or preservatives and without compromising the taste or texture of the treated products. The quality of foods processed with HPP is similar to fresh food products, because pressure has minimal impact on low-molecular-weight components such as color, flavor, and vitamin content.
As Perfect Fit has grown, the firm has also taken full advantage of the unique merchandising and display opportunities that come with VSP, as the photo on page 172 illustrates. "It's all about having the right container format and the right meal make-up, as in not too viscous and not too dry," says Sutherland. "The net result is an in-store display that is incredibly appetizing."
The firm has also traded in its T 300 tray sealers and now has three Multivac T 700 systems, all of them producing VSP. Product goes in refrigerated trucks to the toll processor for HPP. Perfect Fit has also relocated its Ravenwood labelers to the toll processor since the paper labels might not withstand the rigors of HPP.
"One of the things we're testing now with Ravenwood is a linerless label that, because it's plastic film rather than paper, could be applied by us right after lidding material is applied to the trays," says Sutherland. If the tests are successful, being able to apply labels in-house would simplify things logistically from a work-in-process standpoint.
Companies in this article