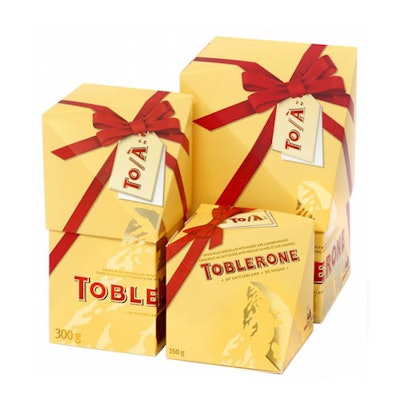 Toblerone, a Bern, Switzerland-based chocolate bar brand, is owned by U.S. confectionery company Mondelēz International, Inc. Mondelēz wanted to create innovative premium gift packaging in a range of sizes for individually wrapped Toblerone Swiss milk chocolate with honey and almond nougat pieces called one-by-ones (OBO's). The company also wanted the packaging to be easily stackable, space-efficient, and recyclable.
After extensive research studies and focus groups, Mondelēz selected a unique packaging design created by Toronto-based FX Creative and graphic designer Turner Duckworth of the UK. The unusually shaped paperboard cartons with triangular facings are produced to accommodate product volumes of 150g (3 5/8" x 3 5/8" x 3 5/8"h), 300g (3 5/8" x 3 5/8" x 7 1/4"h), and 590g (4 5/8" x 4 5/8" x 7 3/4"h). Mondelēz has a patent pending on this unconventional carton shape/form. The recyclable SBS (solid bleached sulfate) paperboard, gauge 16 and 18, is litho-printed using three process colors and three PMS (Pantone Matching System) colors plus matte aqueous coating and hot foil stamping. The recloseable carton top slides out of the carton base to open and into the carton base to reclose. This inventive packaging approach has earned top honors in the Paperboard Packaging Council's 2015 North American carton competition.
Complicated converter challenges
To manufacture and print the cartons, Mondelēz and FX Creative chose to work with the Ellis Group, due to the structural and pre-press support services that Ellis could offer and their confidence in Ellis Group's capability to provide a perfectly finished package on a consistent basis. From help with special inks through expertise in embossing, printing, and die-cutting, they considered Ellis a fully trustworthy converter and packaging partner.
This packaging presented special converter challenges. Not only were there print-to-print register concerns with the two-piece (lid and base) carton, but the converter also had to master emboss-to-print register, foil-to-print register, and foil-to-print-to-die-cut register. Due diligence and planning from graphic design and prepress right through every manufacturing process was essential.
This high-impact gift packaging made its trade show debut at Festive 2014 in Canada. As commercial rollout has taken place in various Canadian marketing areas over the past two years, consumer reception has been excellent. The distinctive angular shape and bold iconic Matterhorn graphics grab attention and reinforce brand identity.
The individually wrapped candies, originally twist-wrapped and now fin-sealed, incorporate one-side-sealable bi-axially oriented clear, printed polypropylene film and cellophane bags from GenPak. Candy pieces are automatically weighed and filled into the cellophane bags using bagging equipment from Hayssen and scale equipment from Data Weighing Systems, Inc. ().
The paperboard cartons are manually erected, manually loaded with the cellophane bags of candy, and manually closed by sliding the top portion of the carton into the bottom section. Tamper-proof safety seals, ribbons, and gift tags also are manually applied.
Companies in this article