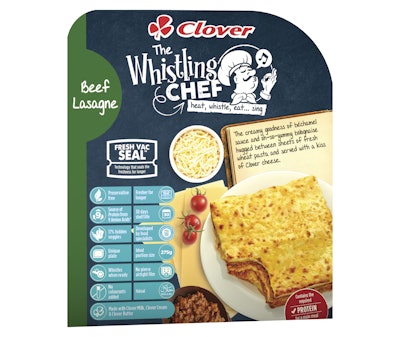 Originally founded to produce dairy products, The South African Clover company is now a leading branded food and beverage group that operates in South Africa as well as in other southern and central African countries. Clover's most recent offering for the chilled, ready-meal market is The Whistling Chef line, which includes South African favorites such as Creamy Macaroni & Cheese, Cottage Pie, Creamy Alfredo, Beef Lasagna, and Spaghetti Bolognese.
A collaboration between Swedish food tech company Micvac and Clover makes The Whistling Chef the first in South Africa to use Micvac's ready-meal production and packaging method. The technology involves in-pack microwave cooking and pasteurization coupled with the company's patented components: a tray and valve applied on the lidding film. When heated in the microwave by the consumer, the valve produces a whistling sound that signals the meal is ready to eat.
The microwave pasteurization process enables Clover to use real cheese, milk, butter, and cream without the use of preservatives and allows for a 30-day refrigerated shelf life.
Rather than investing in a completely automated Micvac filling and sealing line, Clover has installed a smaller and more flexible semi-automatic tray sealer, the MSA20, while they determine consumer response to the product line. Their current pasteurization tunnel is approximately 23 ft. As demand for its ready-meal line grows, Clover can easily increase its capacity with more tunnel modules—the largest ever supplied by Micvac was 52 ft—and with an automatic filling and sealing line.
Micvac and Clover also worked closely on recipe and tray development, which led to a new, custom tray specifically geared toward Clover's needs and its desire to stand out in the market. The Whistling Chef range is completely halal and was developed by food technologists and specialists.
The line was introduced in mid-May 2018 at select retailers and gas station/c-stores throughout South Africa. The product's fun slogans sum up its appeal across target markets: "Working late again!," "Mum's night off!," and "Cooking for one made fun!"
Says Johan Zetterberg, Business Development Director at Micvac, "We are very excited that our collaboration with Clover has led to the release of this innovative new range into the South African market. The Whistling Chef contains real Clover cheese, milk, butter, and cream. Only the best and freshest ingredients are used, and the Micvac method guarantees they keep their delicious flavor."
Watch a video on The Whistling Chef.
Companies in this article