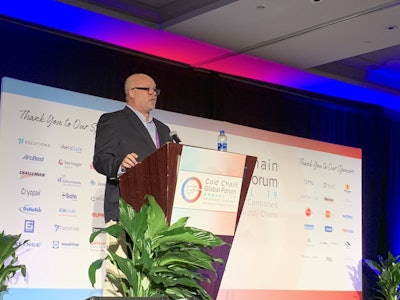 Food waste has a serious detrimental impact on climate change and sustainability. According to Barclay's Sustainable & Thematic Investing, 1.3 billion tonnes (UK) of food is lost or wasted each year. The commodity groups with the highest proportion of waste include fruit and vegetables as well as roots and tubers, each with 45% of overall volume estimated to go to waste.
At IQPC's Global Cold Chain Forum in Boston Oct. 15 to 18, Chris Day, Director Marketing & Business Development at Sonoco ThermoSafe, asked, "What if we didn't have to grow that in the first place?" The spoilage also leads to wasted packaging and transportation costs, which contribute to the overall carbon footprint. Day said that remote monitoring and spoilage reduction are emerging opportunities for the sector.
BerryCo., the world's largest producer of berries, sought answers to some difficult questions around waste and looked into pharmaceutical cold chain technology. The company wanted to deliver sweeter berries to the east coast, with longer shelf life and less product loss. In fact, the top priority by its new CEO was to increase berry sweetness.
Sweetness is a growth driver in higher end berry markets, and BerryCo. was focused on its raspberries and blackberries as those fruits are not as "hearty" in transit and are more expensive. A competitive startup began making inroads in some of BerryCo.'s east coast markets—the company knew it had to look into more robust packaging, but it needed data to justify higher priced transportation.
Existing path to market
The berries are harvested in California, and trucked to the east coast in a five-day trip typically using thermal blankets and passive containers. Harvest timing, shipping temperature and handling all have an impact on taste. "The bumpy ride traumatizes the fruit," said Day, explaining that the fruit is related to pharma (logistically) because it's treated as a living entity impacted by its transport. "And there are ways to quantify taste," he added.
Trial
Sonoco Thermosafe provided custom reprogramming of its PharmaPort 360—as Day dubbed it, the Berry Port. While many pharma shippers employ the 2 to 8°C range, the actual ideal temperature for the fruit is 1°C. This temperature is as close as possible to freezing, getting the fruit close to a hibernation state, so that the berries' shelf life clocks aren't really running.
The BerryPort and passive shipper were put on the same plane. With berries shipped at 1°C±1/4°, the Berry Port offered built-in telemetry to prove performance throughout the journey.
Results
Shipping at 1°C extended the berries' shelf life by three to four days when compared to standard air freight methods. BerryCo. noted that that's a significant increase and that the fruit passed the sweetness test, with help from the hibernation effect taking place.
The lower temperature shipping offers promise—the company can harvest later to produce a sweeter berry, allowing the BerryCo. to improve the fundamental process in which the product is moved to the supply chain from the field.
Anyone can throw overwhelming technology at a problem if you don't care about the cost, Day explained. The biggest cost challenge is that most airlines require these containers to ship under the pharma service and not at the general cargo rate, which adds $2 per clamshell.
So a new shipping option is under consideration: the Pegasus ULD tuned to 1 to 2°C, to preserve berry longevity and flavor during transport. Offering passive cooling and full telemetry, the system can ship by air at general cargo rates to save on costs.
Key Takeaways
Robust pharmaceutical logistics solutions can apply to other industry problems out there, particularly for sensitive organic materials and even change business practices.
Day noted that while precise temperature matters, so does total transportation cost and proof of performance.
The systems designed for life science packaging may help target the enormous waste problem in the food industry. "The sustainability issue does matter to everyone," Day says. (Editor's note: The effect of carbon dioxide emissions from air freight should be considered.)
Further reading:
Cold Chain Management Connects Pharma to Food
Pharma can be Instructive on Food Track and Trace