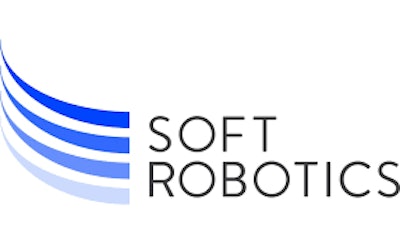 Soft Robotics, a provider of robotics automation, announces its coDrive technology, a modular system which brings the mGrip soft gripper technology to collaborative robots without the requirement for tethered pressurized air. coDrive, through the integration of proprietary Soft Robotics control logic and an independent air source, is designed to power an expanded line of mGrip Cobot Kits.
The coDrive technology is made to "cut the pneumatic cord" and allow mGrip to be deployed where the customer needs it, untethering the system for a variety of collaborative robotic applications such as pick and place, packaging, and machine tending. With coDrive, collaborative customers should be able to bring mGrip adaptive technology to their application with the ease and portability of traditional electrical grippers. The first iteration of coDrive is designed for plug-and-play capability with Universal Robots and has a UR+ certification.
The coDrive controller tucks away into the UR cabinet and includes URCap software for easy programming via the teach pendant. Enabling untethered mGrip applications was the inspiration for coDrive. Users should be able to simply install the mGrip system, set the grip pressure and release timing, and then immediately start picking in the manufacturing location of their choice, no longer dictated by the proximity of house air.
Soft Robotics and Universal Robots will host a webinar on November 14, 2019 at 2:00 pm Eastern and preview the mGrip Cobot Kits with the new coDrive technology. To register, visit: http://bit.ly/SoftRoboticsWebinar.
Companies in this article