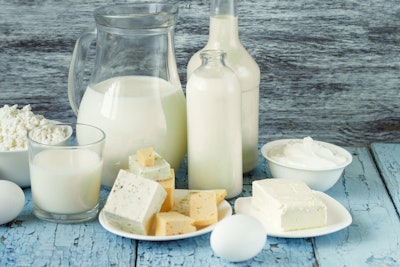 A dozen executives from North America's largest dairy companies will travel to Washington on Wednesday to advocate directly with members of Congress and Trump Administration officials for passage of the US-Mexico-Canada Agreement (USMCA). The International Dairy Foods Association (IDFA), which represents more than 450 businesses throughout the dairy value chain from dairy cooperatives to processors and retailers, has organized the day of legislative action due to the growing importance of exports for dairy companies and producers. News reports about the status of USMCA change by the day and signals from industry insiders are mixed, creating significant concern among dairy companies who rely on exports to remain profitable.
US dairy exports to Mexico and Canada totaled approximately $1.5 billion in 2018, or more than 25 percent of total US dairy exports. Without a modern trade deal in place, food and agriculture exports among North American nations remain uncertain and dairy businesses are hesitant to make new investments.
"Passing USMCA should be a simple bipartisan effort considering the deal's huge upside for the American economy," says Michael Dykes, DVM, president and CEO of IDFA. "I'm grateful to the dairy industry leaders who are traveling to Washington this week in a last-ditch effort to save this deal. We remain hopeful that the House of Representatives can work with the Trump Administration to finalize USMCA before the year's end and communicate a clear timeline for passing the agreement. Without reliable markets in North America, our dairy industry will face extreme financial challenges."
USMCA meets the US dairy industry's top priorities to ensure a level playing field, including preserving duty-free market access to Mexico, eliminating the unfair Canadian Class 7 pricing program and increasing market access to the Canadian market.
Over the last 25 years, US food and agricultural exports to Canada and Mexico have more than quadrupled under the current North American Free Trade Agreement, or NAFTA, growing from $9 billion in 1993 to nearly $40 billion in 2018 and helping support more than 325,000 American jobs in food and agriculture and related sectors of the economy. USMCA builds on the success of the NAFTA agreement.
The International Trade Commission confirmed that USMCA would raise US GDP by $68.2 billion and pump an additional $2.2 billion, or 1.1 percent, into the US economy through increases in agricultural and food exports. One in four American manufacturing jobs are related to agriculture and USMCA, once implemented, will strengthen the US farm and agriculture economy and further support and secure vital market access for US farmers, ranchers and agri-businesses.