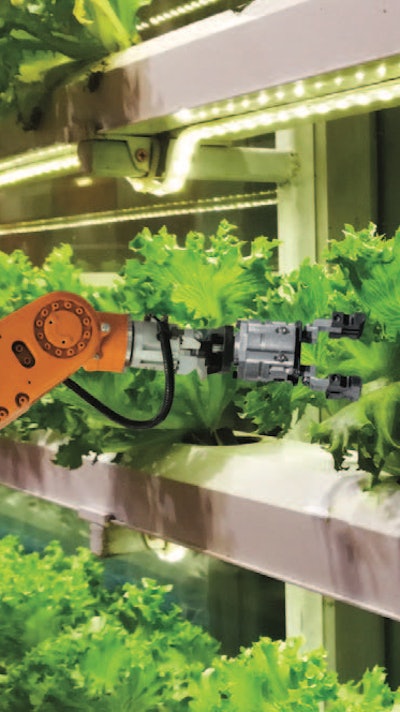 Clean ingredient labeling, clear and sustainable packaging, and on-the-go convenience are all trends of the fastest growing food products. And because lead times are lengthening on ingredients while product development is being measured in months, correctly identifying food product momentum in the market is critical.
According to the U.S. Economic Census Bureau, the fastest growth food segments by value of shipment over the 2014-2017 period were creamery butter at 17.7% CAGR, retail bakeries at 10.9% CAGR, and nonchocolate confectionery at 10.7% CAGR. Those showing a loss with the lowest growth were fats and oil refining and blending at -11.3% CAGR, flour milling at -10.1%, and dry, condensed, and evaporated dairy products at -7.8%.
According to Food Business News, the organic food market has continued to grow in the last few years, although growth was the slowest it has been in a decade at 5.9% in 2018.
Millennials are a key driver of the organic food market, and increased sales in the dairy segment (milk and eggs) have helped propel the rise of the entire organic food industry.
Food Business News also reports that private label brands held the largest market share in all food categories as store brands continue to attract consumer loyalty.
Top growth trends include "Healthy/natural," "Plant-based alternatives," and "Portioned and convenient."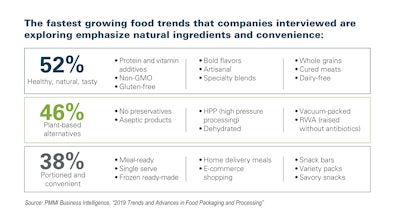 Food Innovations
Alternative Meats: Plant-based meat alternatives are gaining attention and lab-grown meats derived from actual animal muscle fibers are also on the horizon, but according to the report are unlikely to make a big impact in the immediate future.
Insect Protein: While there are still consumer perceptions to overcome, insect protein is poised to see significant growth in the coming years. This protein source also touts numerous environmental and health benefits (including higher protein concentrates and B12 vitamins).
Print Your Own: Printing food with 3D technology could become popular with food processors, retailers, and consumers. The future of food production using 3D printers could reduce the waste produced from conventional cooking and offer choices of shape, texture, composition, and ultimately flavors and taste. Matched with personalized nutrition plans, could 3D printing be the future of eating?
Growing Up: Vertical farming continues to be an anticipated area of growth by food industry experts. While deployment in the U.S. has been insubstantial –a single warehouse in Chicago –other countries have expressed growing interest, with over 50 vertical farms currently operating in Japan. The advantages over traditional farming include minimized land use, controlled growing year-round, and eliminating the need for agrochemicals.
Healthy Benefits: Bone broth, an increasingly recognized source of protein and collagen, shows early signs of adoption by food and beverage brands. Recent research suggests it may be beneficial for maintenance of gut microbiota and as a therapy for chronic migraine headaches.
Sugar Reduction: Consumers have been moving steadily away from foods with large quantities of added sugar, spurring food manufacturers to formulate new low-sugar and sugar-free offerings. A Gallup poll found that 51% of adult consumers are actively avoiding sugar, while Mintel found that launches of reduced, low, and no sugar foods increased nearly 20% from 2015 to 2017. Sweeteners that closely mimic sugar, such as sugar alcohols, and natural sweeteners, such as stevia, are the most popular replacements among sugar-conscious consumers.
Source: PMMI Business Intelligence "2019 Trends and Advances in Food Packaging and Processing"
Download the FREE Executive Summary below, or PMMI Members can download the entire report here.
Make plans to visit PACK EXPO East in Philadelphia, March 3-5, to see on-trend food processing and packaging machinery and materials.