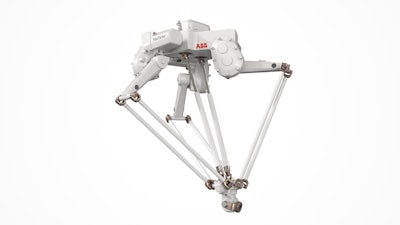 One of the most significant consumer trends transforming the packaging landscape is e-commerce. Growing at a steady rate before the COVID-19 lockdown, e-commerce sales exploded at the end of Q1-2020. According to an article in Forbes, U.S. retailers' online year-over-year revenue growth was up 68% as of mid-April. As of April 21, there was a 129% YOY growth in U.S. and Canadian e-commerce orders and a 146% growth in all online retail orders. While these numbers will no doubt decrease somewhat after COVID-19, most agree that they will remain higher than before the pandemic.
---
Read related articles from Packaging World:

Cobots Automate Assembly & Bagging of PopSockets
Big Packaging Line in a Small Footprint? No Problem if it Handles a Dozen Formats
Cobot Deployment Shines in COVID-19 Pandemic
COVID-19 Brings Increased Visibility to the Role of Robotics
---
When it comes to investing in e-commerce packaging capabilities, Robert McElmurry, Business Development Manager for Fanuc Fulfillment Group, advises that "the time is now." Presenting during a Fanuc webinar, titled "E-Commerce Fulfillment Solutions," McElmurry said, "We're seeing a ton of investment in this space, especially given current events, things have really transitioned at a rapid pace. … if you're not acting in this space, or at least thinking about how you're going to automate robotically, it probably means you're behind, and it's time to get started."
For e-commerce applications, ABB's delta robot, the new IRB 390 FlexPacker™, will be launched at the end of 2020. The robot will support customized packaging, vertical packing, and high-speed, high-variation sorting and on-demand picking in logistics and e-commerce fulfillment centers. The IRB 390 is recommended for secondary packaging and higher-payload applications, with the speed and flexibility to support SRP and Retail Ready Packaging (RRP). According to ABB, manufacturers will be able to build a complete solution for pre-sorting and group packing by combining the IRB 390 FlexPacker with the company's IRB 360 FlexPicker pick-and-pack system.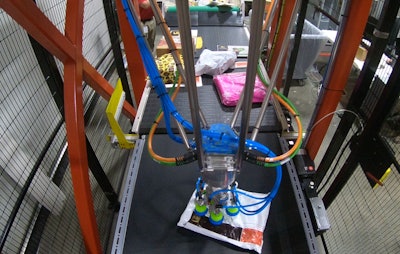 From MHS is a new robotic singulation solution specifically designed to address the growing e-commerce order volumes, packaging variety, and labor challenges facing distribution centers. Suitable for parcel processing operations handling large quantities of smaller packages, the system consists of a five-axis delta robot that uses proprietary vision software and algorithms to pick individual items from bulk flow, then orient and place them in a single-file stream for downstream sortation. The robot uses a vacuum-based end effector to handle the variety of packaging types found in e-commerce and parcel processing environments, including corrugated cases, polybags, and bubble mailers.
Delivering a "cobotic" e-commerce handling solution, Universal Robots' cobot Quick Deployment Kit is a scalable solution for parcel induction, case packing, and goods-to-person tasks developed by systems integrator MDCI Automation and Plus One Robotics. Using a vision engine powered by PlusOne's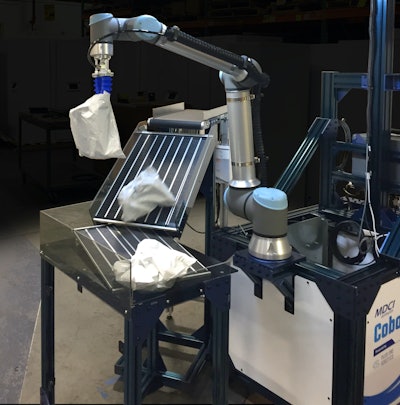 PickOne software and the UR10e cobot, the QDK identifies the pick points for items in a pick zone and sends the points to the UR cobot, which then picks and places each item onto a place zone/conveyor. Says Universal Robots, the QDK can keep up with fast-moving conveyor speeds and is able to "learn" to pick targets via human assistance through a remote alerting technology.
Soft Robotics, a pioneer soft robotic automation systems that can grasp and manipulate items with human hand-like dexterity, has also engineered a system for the e-commerce market—the SuperPick™ Polybag Picking System. The SuperPick provides e-commerce operations the ability to automate the handling, scanning, and loading of outbound orders and returns of polybagged items or self-sealing mailer bags.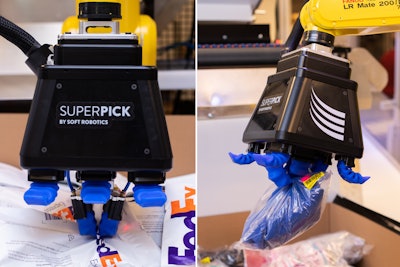 The system combines 3D vision and data processing, with gripping technology that can handle items that include those with the highest degree of variability. Says Soft Robotics, "Handling the variety and the nature of unstructured items in polybags is something that traditional automation has not yet been able to reliably address. The SuperPick can pick, scan, and deliver identified products of varying size, shape, fragility, and weight to any material handling system on the market."
Read Packaging World's full 2020 Special Report: Robots Drive the Manufacturing Revolution
Companies in this article