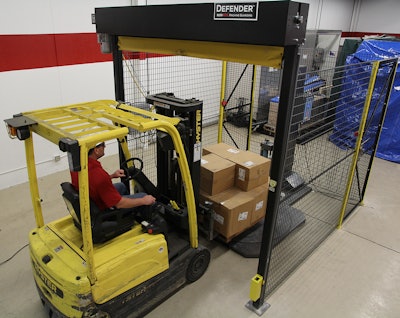 Built to restrict access and provide point-of-operation guarding around potentially dangerous automated and automatic processes, including stretch-wrap machine operations, the new Rite-Hite Defender cell combines Rite-Hite RoboGuard 8-gauge welded steel-wire fencing and a high-speed, high-cycle automated barrier door to create a four-sided safety compartment.
The door separates machine operators and manufacturing processes at the critical point of operation, while allowing safe, easy access to the process cell once it has powered down. The door curtain is made from 40-oz, vinyl-coated, polyester flame-resistant material. The fencing is customizable to accommodate a variety of applications and designs.
"Companies don't have to sacrifice efficiency for enhanced safety," says John Ritter, Rite-Hite Doors product manager. "The Defender cell is proof that potentially dangerous automated processes can be made safer."
Visit Rite-Hite's virtual showroom here. The PACK EXPO Connects website will be available through March 31, 2021.
Companies in this article