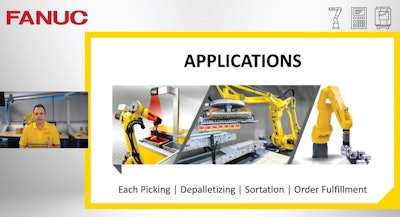 NOTE: Robotics wasn't the only area of interest at PACK EXPO. Click the links that follow to read more about innovations in:
Machinery   Materials   Controls   Pharma
E-commerce has reached unprecedented levels, much like the unprecedented pandemic that prompted the rise. According to Robert McElmurry, Executive Director—Global Accounts at Fanuc America Corp., e-commerce spiked Q1-2020 from 11% of retail to 16%—representing a 45% increase in just one quarter.
McElmurry, who led Fanuc's demo at PACK EXPO Connects, shared other statistics on e-commerce as he set the stage for a discussion on "Leading-Edge Order Fulfillment Systems." Among them, he noted that there were 103 billion packages shipped worldwide in 2019, 20 billion of which were in the U.S. "Globally that comes down to 3,200 packages per second that are being handled by parcel companies," he said. "The great news is that this industry is expected to double in size by 2026. So, if you're a technology provider or you're an end user, it means there's going to be 103 billion new handling opportunities in the next five years"—handling opportunities that can be addressed by robotics (1).
According to McElmurry, robots can assist in both upstream and downstream processes—"not only getting the product from a manufacturer to a consumer, but also from a manufacturer to a DC or FC, or an omnichannel fulfillment center, and then moving from there to either a retail location or a cross dock, or moving out to a business or consumer," he explained. "There are all these upstream opportunities where robots are being successfully deployed today, and we really do see it as the sky is the limit in terms of the number of opportunities likely to be out there over the next two short years."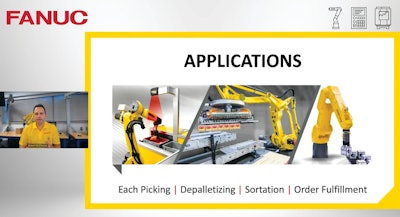 The most common applications for robots in the warehouse and distribution center today are each picking (also known as piece picking or split-case picking), depalletizing, sortation, and order fulfillment, McElmurry shared. What they all have in common, he added, is that they identify where an item is, grab that item, and move it somewhere else.
• Each picking: Robots can be used to pick an item from a bin or tote and place it somewhere else—potentially in a package or a bag for a grocery order.
• Depalletizing: Here, robots can be used at a cross-dock facility, for example, to induct items into a small sortable center where small products are handled.
• Sortation: Depending on where an item sits in the supply chain, the robot can singulate and induct the item into more traditional automated command systems.
• Order fulfillment: Robots can be used to pick items necessary to fill an order that will then be routed to an end user.
Said McElmurry, "We're seeing literally hundreds of robots deployed into these areas, and a lot of companies are having a lot of success."
What followed next were several examples of Fanuc robots being used on the outbound side, either out of an FC or out of a parcel facility. The first was the bulk flats induct system, which comprised a robot inducting bulk items into a sortation system through the use of a vision system and a vacuum gripper. Scanners and sensors on the line read the shipping case barcode from multiple sides to orient the package correctly. The solution uses an AI vision system. Said McElmurry, "Where we are really seeing success with these [AI] systems are in applications that have a significant amount of variability in the types of products being handled," for example, traditional letter envelopes mixed with a variety of box sizes. He added that these types of AI robotic systems can operate at speeds from 1,000 to 1,500 pieces/hr, depending on the number of robot arms used.
The next example was a parcel sorting application, using Fanuc's integrated 3DV/1600 vision sensor, part of its iRVision® suite of fully integrated machine vision products for robot guidance and inspection, to pick objects presented in a random assortment from a bin in a fixed position. Developed specifically for this type of application or for line tracking large parts, the 3DV/1600 can quickly snap 3D images over a Z range of 2 m, with a maximum field of view of 2,700 mm square. "So, you're getting the field of view that you need, as well as the resolution you need in order to correctly identify pick points for these packages," McElmurry explained.
Fanuc offers its own integrated suite of vision products and can help end users work with a third-party vision company for AI. McElmurry said Fanuc also has the most diverse range of robot products in the industry on a standardized platform.
Check out the many packaging solutions featured by Fanuc at their PACK EXPO Connects Virtual Showroom, found at PE.show/515.
End-of-line applications
Robotics is making its way increasingly into end-of-line packaging—from more established palletizing applications to up-and-coming medical device packaging—and Brenton Engineering, a ProMach brand, had a lot to show of this technology and its capabilities at PACK EXPO Connects. With 12 different virtual demonstrations, Brenton detailed a variety of ways to integrate robotics into end-of-line packaging, showing integration methods as well as new technologies in case packing and linear servo motor tracks (2).
In Brenton's video demonstration of a very high-speed, continuous-motion robotic top-load case packer, it was easy to see how the incorporated linear servo motor tracks would benefit the packaging operation. The Intelligent Track System (iTrak) from Rockwell Automation replaces chains and belt drives to replace fixed pitches with a more flexible system, automating changeovers easily. "With the push of a button, you can change from a 20-in. to a 25-in. pitch with no changes," explained Ryan Glenn, Vice President of Sales at Brenton.
This type of technology has been around for a few years—demand driven by SKU proliferation and the move toward mass customization—but it's newer in case packing, according to Glenn. "It's becoming more cost-effective. It hasn't been mainstream on fixed-asset machines; we've seen it more on larger-scale processing machines," he said, adding that Brenton is one of the first case packing companies using the technology. "We've already sold a prototype machine, and customers are excited about it." Interest is coming primarily from retail food customers.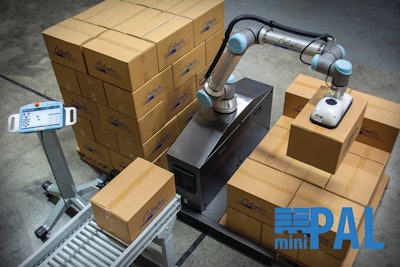 Demonstrating how modules can be integrated into a full end-of-line packaging system, Brenton showed why robotic pick-and-place has been gaining acceptance in pharmaceutical and medical device packaging. Robots enable a more compact, efficient line design; a higher level of cleanliness; and high reliability, durability, and accuracy.
Operation Warp Speed and other government programs built around speeding COVID-19 test kits and ultimately vaccines to the public are adding to the need for life sciences manufacturers to improve efficiencies and speed production, Glenn noted. "We're kind of on the tail end of gearing up to be prepared for that," he noted. "We'll have a big focus around delivery of vaccines by the middle to end of next year."
Complete lines show a range of packaging capabilities, including solid dose end-of-line, robotic sterilization tray handling, thermoformed (blister pack) packaging, and vial packaging.
Check out the many packaging solutions featured by Brenton at its PACK EXPO Connects Virtual Showroom, found at PE.show/325.
Robotic palletizers
In its PACK EXPO Connects demo, "miniPAL® A Collaborative Palletizing Solution," Columbia/Okura showcased the new safety and mobility features of its miniPAL® collaborative palletizing robot (3), which features the UR10e robot. To ensure operator safety, the miniPAL now has two area scanners and two safety mats that actively monitor the miniPAL cell. When the scanners are triggered, the robot slows down to collaborative speeds. During collaborative mode, the horn will beep. To resume speed, the area must be cleared, and the yellow button labeled "reset" must be pressed.
For mobility, all of the miniPAL's connections now have quick disconnects at the back of the robotic enclosure. To move the miniPAL, users just disconnect all cables and unlatch the robot frame.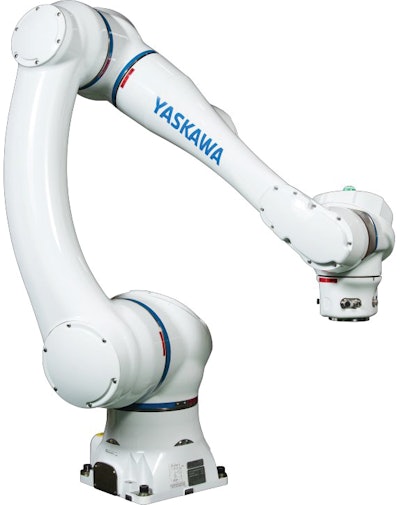 The miniPAL has a compact design that includes a lifting column for tall loads, dual stacking locations for continuous load building, built-in fork pockets for easy mobility, and intuitive pattern building software. Sheet placement and product double-picking options are available. The cobot has a load capacity of 18 lb, including the end effector.
According to Columbia/Okura, the cobots are easy to program, using Pally software by Rocketfarm. "The software is designed to be smooth, flexible, and quick to install, with three easy steps," Columbia/Okura said. "It also handles changes in production with ease and requires no downtime."
Noted Columbia/Okura, the miniPAL offers five significant benefits:
• Efficient Set-Up: Takes less than a full day; plugs into 110V AC wall power
• Easy Operation: No previous programming experience required
• Quick Payback: Average payback is between eight to 10 months, depending on application and industry
• Flexible Deployment: The mobile solution is easily moved and redeployed to new processes
• No guarding required: Vast majority of cobot applications work next to humans without perimeter guarding requirements
Check out the many packaging solutions featured by Columbia/Okuara at their PACK EXPO Connects Virtual Showroom, found at PE.show/200.
Elsewhere on the cobot scene, Yaskawa Motoman's HC20XP collaborative robot (4) with a 1.7-m reach is IP67-rated, easy to program, and safe and flexible enough to work side-by-side with people or move between conveyors. It made its debut at PACK EXPO Connects.
The HC20XP cobot is designed with an extended reach that makes it perfect for end-of-line palletizing applications while working in close proximity to humans, the company said. To that end, the new cobot features a 1.7-m maximum reach. Its extensive range enables the cobot to reach full 80-in. pallets without requiring an elevator or lift mechanism, while its 20-kg payload allows it to lift larger cases and parts.
"End-of-line palletizing is one of the best places to implement robotic automation," said Michael Castor, material handling product manager at Yaskawa Motoman, noting that instead of having multiple people taking boxes off of a conveyor, "you can put in one robot that will take all of the boxes from the conveyor and stack them on the pallet for you."
Castor noted, too, that the HC20XP is easy to implement—featuring precise hand-guided teaching—and, while there still may be a robot risk assessment required, cobots typically don't require safety fences. This means it uses less space and is flexible. "Because there is no big cell, you can move it to different conveyors, so you don't have to deploy multiple robots as there is the potential to use one robot to handle many different conveyors just by moving it around."
According to Yaskawa, this is the industry's first IP67-rated collaborative robot, equipped for continuous use in damp or splash-prone environments. Made of cast aluminum for durability, this model features an easy-to-clean surface, allowing utilization in sanitary environments where wipe or wash is required. NSF H1 food-grade grease is included as standard, enabling use in settings where there is a possibility of incidental food contact.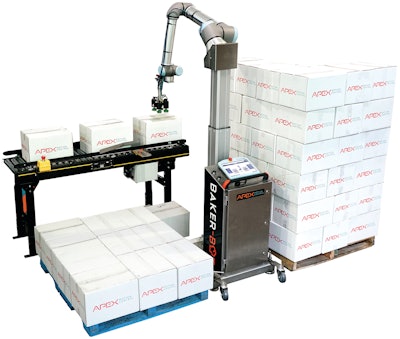 In addition, the HC20XP meets established safety standards (ISO 13849-1 and ISO 10218-1) and complies to ISO TS 15066. It offers four modes of collaborative operation, including Power and Force Limiting (PFL), where dual channel torque sensors in all joints constantly monitor force to quickly and safely react to contact. Designed for the utmost safety, the HC20XP features a pinch-less design, while through-arm utilities hide cabling, reducing risks of snagging or interference with other equipment.
The HC20XP can easily shift between collaborative speed in PFL mode or full speed in industrial mode to optimize cycle times based on risk assessment and process requirements. It can operate without additional protective measurement (risk assessment dependent) resulting in reduced cost and space requirements. Function-specific tooling and accessories are available from various Yaskawa partners. A through-arm Category 6 cable enables a wide variety of communication options for tooling.
The HC20XP robot is controlled by Yaskawa's ultra-compact YRC1000micro controller which can be installed vertically, horizontally, or mounted in a standard 19-in. equipment rack. Its small footprint and lightweight cabinet are ideal for factories with high-density layouts, where seamless integration and stacking of controllers may be required.
Check out the many packaging solutions featured by Yaskawa at their PACK EXPO Connects Virtual Showroom, found at PE.show/189.
Introduced not long ago by Apex Motion Control, the Baker-Bot (5) relies on a collaborative robot from Universal Robots that is safe and easy to use and does not require guarding. It can be integrated into most production lines and ensures consistent product quality.
At PACK EXPO Connects, Apex highlighted a new function for the Baker-Bot: end-of-line palletizing. So in addition to decorating cakes, performing pick-and-place functions, and loading/unloading trays and pans, this cobot can now handle palletizing tasks and be integrated into most production lines without the need for safety guarding. As many as 11 cases/min can be safely placed on a standard North American pallet with a stack height up to 76 in. and with a 10-kg case load including the end effector.
Check out the many packaging solutions featured by Apex Motion Control at their PACK EXPO Connects Virtual Showroom, found at PE.show/470.
ONExia Inc., a collaborative robot integrator and creator of the PalletizUR™, announced at PACK EXPO Connects the release of PalletizUR 2.0, the latest version of their palletizing robot product line (6). Based around the Universal Robots collaborative robot, PalletizUR 2.0 features a custom software that enables end-users to have this robot palletizing standardized products for final shipment in minutes. Key features:
• Automates an otherwise manual process, eliminating worker ergonomic issues
• Allows reassignment of workers to "higher and better" work contributions
• Durable and portable: move with a pallet jack or forklift
• Minimal integration: PalletizUR 2.0 comes ready to run out of the crate
• Custom end-effectors: designed for each customer's specific needs
• PalletizUR 2.0 software: drag and drop pallet configuration
• Continuous operation: two-pallet reach for minimal down time
• Auto-height adjustment: seventh axis provides ability to stack pallets up to 70 in.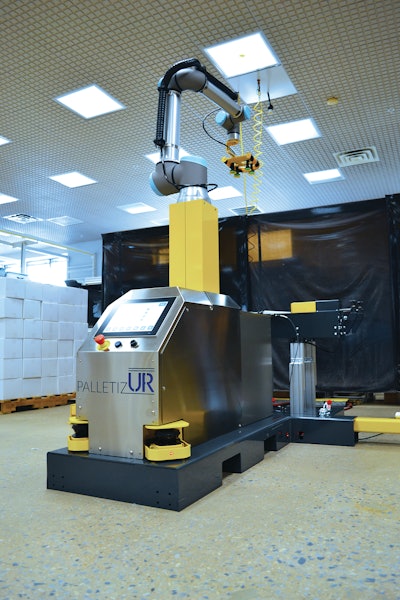 "Robotic automation has become priority number one for manufacturing in 2020, and the PalletizUR 2.0 gives end-users the ability to successfully automate palletizing without a major redesign of their current packaging lines," said Tim Pelesky, Marketing Manager of ONExia Inc. "With a price point around $100,000 our customers are seeing an ROI in under a year. The system also frees up valued employees to do higher level and ergonomically safer tasks."
Check out the many packaging solutions featured by PalletizUR at their PACK EXPO Connects Virtual Showroom, found at PE.show/598.
Coesia company's FlexLink Systems RI20 palletizer (7) is suitable for palletizing closed boxes within fast-moving consumer goods industries. The unit includes enhanced safety features that allow a safe coexistence between the robot and operators on the production floor. The presence of operators in the safety area dynamically adjusts the speed of the robot instead of stopping it, reducing unnecessary downtime. Two pallet loading docks create a seamless pallet exchange that allows them to be filled in succession and increase capacity by up to 5%.
The compact design of the unit saves up to 40% floor space compared to heavy robot palletizers. The mainframe does not have to be attached to the floor and the RI20 unit can easily be moved using a forklift. The palletizing unit can be relocated in just a few hours, 50% more quickly than alternative solutions the company says, and can be used in multiple lines during the day.
The RI20 has an intuitive, web-based pallet pattern manager and does not require robot programming. It takes less than 10 minutes to set up a new recipe, or a few clicks to load an existing design.
The palletizer is available with several options, including a rigid interlayer module, pallet pattern manager software, a portable tablet, a remote assistance package, preventive information package, and data collection package.
Check out the many solutions featured by FlexLink Systems at its PACK EXPO Connects Virtual Showroom, found at PE.show/181.
Focus on flexibility
Out of necessity, end-of-line palletizing equipment is becoming increasingly agile and complex. As speeds go up and SKUs multiply, highly flexible equipment—and increasingly, custom equipment—becomes more important. That's why NuSpark used a portion of its demo time at PACK EXPO Connects to show its NRP-10 (NuSpark Robotic Palletizer) robotic palletizing solutions (8).
These systems use Fanuc robots, typically within the range of M710, R1000, or R2000 depending on the application. The NRP-10 can range from more manual versions with manual pallet replacement to systems with automatic pallet transfer. Illustrating at the event the upper echelons of automation available within the NRP-10, the company demonstrated a system with two pallet magazines, dispensers, and transfer systems. The robotic arm with mechanical gripper, located at the intersection of the two intersecting lines, can simultaneously service both lines with disparate product without any changeover. In the case of the demo, this meant one line of bliss-style open-top trays, and another line of sealed RSC cases, while running slip sheets between each layer.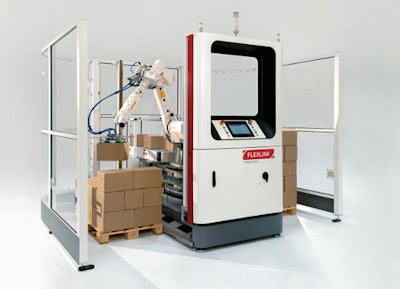 Continuing on the flexibility theme, but increasingly stressing NuSpark's custom-equipment chops, a second demo showed a custom wraparound sleever for a paint brush equipment. The commercialized application is for Purdy brand Nylox brushes. Brushes from 1- to 3-in., in various bristle orientations from flat to angular, are readily run on this versatile system. At 30 brushes/min, the un-named, custom system horizontally slides each brush into a waiting, formed sleeve and keeper carton. A servo-driven indexing conveyor transfers brushes through the loading operations, as well as the sealing and labeling. Pressure sensitive Velcro button 'labels'—one male, one female—are applied to the body and outer flap of the keeper carton, along with a sensomatic tag. When the carton receives its last fold to enclose the brush, the male and female buttons are joined to create the final seal. All of these applications are integrated into a single sleever frame.
Check out the many packaging solutions featured by NuSpark at their PACK EXPO Connects Virtual Showroom, found at PE.show/506.
For packaging and processing
At PACK EXPO Connects, Omron Automation highlighted three of its robot products designed to address specific packaging and processing applications. One of these robots is Omron's new HD-1500—an autonomous, intelligent mobile robot that can handle payloads of up to 1500 kg. Omron's demo showcased the robot's use of lasers to provide 360 deg of safety coverage as well as its sensor, which allows for precise pick-up and drop-off of materials. The HD-1500 uses Omron's Fleet Manager software, which enables the robot to calculate the best route for material transport while navigating safely around people and obstacles without the use of magnetic floor tapes or other guides. Omron's Fleet Manager can control up to 100 mobile robots of different sizes, configurations, and payload capacities, such as Omron's other mobile robots—the LD-60/90 and LD-250.
"The HD-1500 is specifically designed for industrial environments and allows for the movement of large payloads while reducing the need for forklifts," said Kate Cramer, Automation Engineer at Omron Automation. "Typical applications include high-payload transporting of materials or finished products such as wrapped pallets, modular equipment, and subassemblies to and from the warehouse or from one location to the next."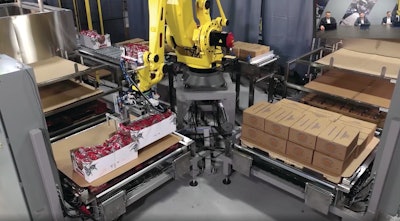 Omron also gave PACK EXPO Connects attendees a preview of its forthcoming FH-3D Vision Sensor (9), which will be available for purchase in April 2021. To demonstrate this new sensor, Omron showed how it works with the company's TM collaborative robot.
Danielle Belskis, Automation Engineer at Omron Automation, said Omron developed the FH Series 3D camera to solve robotic bin picking applications. "Our collaborative robot, when equipped with our new 3D vision camera, is able to pick up known objects with random overlapping positions out of a bin. Traditionally, this was difficult to automate due to varying weights, shapes, and orientations of objects that require 3D location and different forces during picking. The FH Series 3D camera locates the various objects in the bin and sends their coordinates to the robot, while the cobot's software makes the advanced calculations required for optimized trajectory and force to pick up objects."
In Omron's Traceability 4.0 demo, Brian Jeppesen, Automation Engineering Supervisor at Omron Automation's Technology Center, used an Omron NX102 automation controller, a mechanical stage with a concentric ring, Omron's G5 servo system, and Omron's FH vision system. He explained that, in this setup, the NX102 automation controller sends motion commands to the G5 servo system. The servo system then sends position data back to the automation controller, which then determines the correct time to trigger the camera and send triggers to the FH-5050 vision system.
"The vision system triggers the camera and the strobe light and the camera passes the image back to the vision system," Jeppesen explained. "The FH-5050 processes the image and decodes the 2D code. The code value is sent back to the NX102, which sends the decoded data to the cloud using the MQTT protocol. And all of these processes can be programmed and monitored using the Omron's Sysmac Studio software."
With the controller's ability to send data to the cloud via MQTT, Jeppesen said "one of the major benefits of this Traceability 4.0 solution is having the ability to get information scanned at the point of origin and then become immediately available for analysis using cloud services."
The ability to quickly access and analyze this kind of granular production data is critical to industries such as the food and beverage packaging industry so that contaminated products can be traced to a specific serial number or a lot number. With this level of detail, it means that "all products with a specific part number need not be discarded, only the products with that specific lot number or serial number range would need to be discarded," Jeppesen said.
Check out the many packaging and automation technologies featured by Omron Automation at their PACK EXPO Connects Virtual Showroom, found at PE.show/397.
More speed, more payload
ABB highlighted its new FlexPacker robot (10) and PickMaster Twin software at PACK EXPO Connects.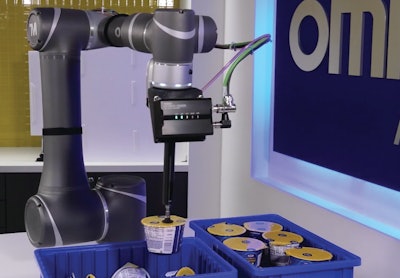 The IRB 390 FlexPacker robot, with its 35% faster pick speed and 45% increase in payload of up to 15 kg compared to ABB's TRB 360-8/1130 FlexPicker, is available as a four- and five-axis variant delta robot. Marc Segura, ABB's Managing Director of Consumer Segments and Service Robotics, said ABB developed the IRB 390 FlexPacker with the food and beverage, logistics, pharmaceutical, and consumer packaged goods industries in mind. He added that the IRB 390 is designed for secondary packaging and higher payload applications, with the speed and flexibility to support shelf-ready packaging and retail-ready packaging. It features NSF H1 food grade lubricants and is built using an FDA-compliant material, suitable for use in hygienic environments.
In its exhibit, ABB demonstrated how the PickMaster Twin, ABB's digital twin robotic software for vision-guided random flow picking-and-packing applications, enables the simulation of packing stations to optimize the picking process before the stations are physically constructed. This ability is said to dramatically shorten commissioning times from days to hours and reduce changeover times from hours to minutes, while maximizing overall line efficiency. The software also features a color vision system that can support up to 10 cameras for accurate position guidance and inspection.
Just prior to PACK EXPO Connects, ABB announced its acquisition of Codian Robotics, a well-known supplier of delta robots for high-precision pick-and-place applications. Codian's robots are also recognized for their use in hygiene-sensitive industries, including food and beverage and pharmaceuticals.
Johannes Faden, Strategic Development Manager at ABB for the company's machine and factory automation business unit, explained that Codian's portfolio of robots for hygienic food and beverage processing are built with FDA-approved materials, meet the IP69K water-proof standard, and can be cleaned with high pressure water and detergents.
"There is a strong need for pick-and-place robots that ensure high hygienic standards, which has been accelerated by the COVID-19 pandemic. Our food and beverage, pharmaceutical, and logistics customers are particularly interested in the potential of automation, enabling supply chains to continue to function, while protecting employee welfare," said Sami Atiya, President of ABB Robotics and Discrete Automation.
Faden noted that ABB's interest in acquiring Codian was driven by the growing use of delta robots in pick-and-place applications in the food and beverage, pharmaceutical, and logistics industries. "Codian's robot arms will be integrated into ABB's IRC5/Omnicore control platform, RobotStudio simulation tools, and PickMaster picking software to expand our total solution platform for end-customers and system integrators," he said.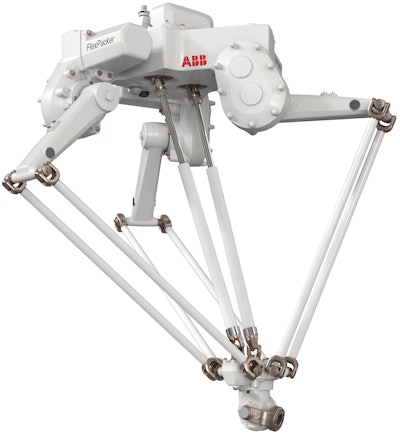 Check out the many packaging and automation technologies featured by ABB at their PACK EXPO Connects Virtual Showroom, found at PE.show/713 and PE.show/618.
IntelliFlex additions
Epson Robots debuted the two newest additions to its IntelliFlex flexible feeder system (11) line-up at PACK EXPO Connects. The new additions are the IntelliFlex 80 for handling small parts (3 mm to 15 mm) and the IntelliFlex 380 for large parts (15 mm to 60 mm). These systems join the IntelliFlex 240 (for part sizes 5 mm to 40 mm) and the IntelliFlex 530 (for part sizes of 30 mm to 150 mm). These flexible feeder systems are used to feed consumer goods for packaging in kits, as well as sorting of electronics and medical device parts for packaging.
A key aspect of Epson Robots' approach to flexible feeding systems is its all-in-one system delivery. Stacey Tieu, Product Manager at Epson Robots, explained that common flexible feeder systems are composed of separate feeder communication protocols; feeder tuning requirements; vision system calibration and programming; and system programming and optimization to coordinate the robot, feeder, and vision system. Epson Robots' approach is to combine all these components into one system that integrates the vision programming, part tuning, and parts control adjustment. This allows for the Epson IntelliFlex system to be set up and running in one day, rather than the weeks it typically takes to set up a flexible feeder system, according to Tieu.
"IntelliFlex is a great alternative to bowl feeders," said Tieu. "With bowl feeders, if you happen to change a part, you have to go out and buy a new bowl feeder or modify your existing one to handle the new part. "With IntelliFlex, you don't have to retool the system, it can accommodate different part sizes as well as different part and material types."
This inherent adaptability of IntelliFlex is made possible by Epson's RC+ integrated software environment, which is used to program and control all aspects of the flexible feeder system. "It's also what enables the IntelliFlex to be set up so quickly," Tieu added. "We have built-in command sets for parts feeding so that engineers don't have to figure this out themselves. The user interface provides a point-and-click way to program the feeder.
The software environment's use of artificial intelligence enables autotuning of the IntelliFlex system. Aaron Donlon, Epson Product Manager, explained that, in the RC+ environment, "if you set up the system for one part and then need to move to the next part for a different product, setting up that new part in the system is very easy with all the built-in wizards. You literally just drop 10 parts on the feeder and it uses the built-in algorithm to determine the right set of vibrations or frequency to spread those parts out for optimized feeding. There's no trial and error with this process, you just let the machine do the automated tuning calibration for you."
Donlon noted that the longest he's seen the system take to self-adjust to new parts is five minutes, but that the process typically only takes about two minutes.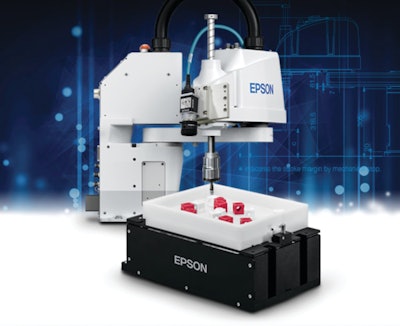 Though Epson Robots is well known for its SCARA robots, the company has been producing 6-axis robots for 25 years. The newest addition to the company's C series of 6-axis robots is the C12XL—Epson Robots' highest payload and highest reach robot released to date. It features a 12kg payload capacity and a reach of 1400 mm.
As with Epson's other 6-axis robots, the C12XL has a slim, lightweight design due to its use of Epson's QMEMS (quartz micro electro-mechanical system) technology in the robot's gyro sensors, which are part of the servo system. This technology dramatically reduces the weight of the robot, allows for low residual vibration, and minimizes overshoot with smooth end-of-arm motion, according to Epson.
"Many robots on the market use a lot of mass to dampen out the vibration," said Donlon. "We use the QMEMS technology to cancel out the vibration and that allows us to have a lighter weight, faster, and higher-performing robot. That's how we get a 65 kg robot and a smaller controller with that level of payload capacity."
According to Epson, the C12XL features high acceleration/deceleration rates and high-speed cycle times to optimize parts throughput. Its compact wrist pitch enables access to hard-to-reach areas. ISO 4 Cleanroom models of the C12XL are also available. In the cleanroom version, protective covers are used to avoid static buildup and a vacuum port in the base pulls particles in.
Usable as a stand-alone robot or as part of a line, Donlon noted the C12XL will excel in end-of-line applications such as packaging, kitting, material handling, or palletizing.
An integrated vision option is also available for the C12XL.
Check out the many packaging and automation technologies featured by Epson Robots at their PACK EXPO Connects Virtual Showroom, found at PE.show/476.
Counterflow principle
Schubert used its PACK EXPO Connects platform to demonstrate its TLM (top-load machine) Flowpacker, an integrated, modular flow wrapper. The system is U-shaped in product flow, with naked product entering randomly and loosely on a wide pick-and-place infeed belt, and passing left to right in the enclosure until it eventually is picked-and-placed by Schubert-built, gentle-handling delta robots in the third module in the system.
The robots transfer the naked, randomly placed product onto a smaller, faster-moving belt traveling parallel to the pick-and-place infeed belt, but 180 deg in the opposite direction. As the robots make the 180 deg directional transfer from the first belt to its counterpart, it indexes product in precise, back-to-back orientation on the flow-wrapper infeed belt. Naked product is now indexed and traveling from right to left.
This space-saving design carries product in parallel, but in two different directions, like a two-way highway. The company refers to this as the counterflow principle. The best way to think of the product as it travels through the three main modules is to imagine naked product going into the first module, through the second, then to the third. There, it makes an about face thanks to the delta robots, and then travels the opposite direction from the third, to the second, to the first module, from which it exits.
In most flow wrappers, the spools of rollstock film, or the "film device" as described by Johannes Schubert, Global Key Account Manager, would reside in the same module as the flow wrapping function, right above it in fact. But in this system, the film device has been moved out of the first module, where product is flow-packed into film both by an ultrasonic long-sealing and flying cross-sealing unit. Instead, the rollstock and film application equipment has been moved slightly upstream on the flow-wrapper infeed belt, into the second module between the flow packer in the first module at the front of the machine, and the delta robots in the third module at the back of the machine.
The reason for this design adjustment was to give operators unfettered access to the sealing jaws in the first module and film roll device in the second module for maintenance or cleaning, leaving much more room to work in these spaces. Perhaps even more important, the in-line (instead of stacked) film rolls/device and flow-wrapping units allows for reduced machine height—the two stations are next to one another instead of one on top of the other.
"The low height is very ergonomic for operators," Shubert said in the demonstration. "Operators can easily prepare the automatic splice, or if they need to replace film, the height is easy to reach."
Also of note, the vision system in the third module of the system, where the delta-robots reside, is a Schubert-made 3D vision system. This allows a 3D quality control check to occur directly upstream of the flow-packing operations, looking closely at shape, color, height, and weight. Rejects are ignored by these trained robots and fall harmlessly into a reject bin at the end of the wide pick-and-place infeed belt. Not only does this save QC after flow-wrapping, it also saves the film that would be used to pack out-of-spec or damaged product.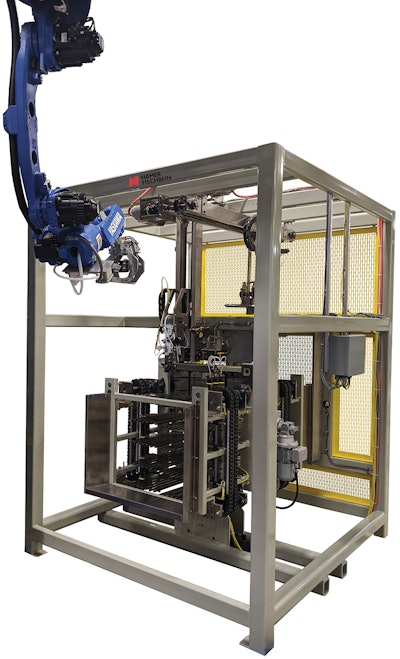 An optional fourth module contains a single pick-and-place robot paired with a denester for any applications where you aren't flow-wrapping naked product, rather product placed in, for example, a 1x4 format thermoformed plastic tray for multi-packed cookies. For applications requiring a tray, the trays are simply placed on the outfeed conveyor just upstream of where the delta robots would place the product. Only, instead of placing product directly on the belt, product would be filled into the denested and robotically placed trays prior to flow wrapping.
A separate Schubert focus, but a quite timely one, was on aftermarket support and service. In the COVID-19 era, with supply chains disrupted and access to service team members compromised, clever service and support programs were quite the topic of interest throughout PACK EXPO Connects. Schubert's slant on this topic was in the form of an exhaustive online parts catalog with full dimensional spec that can be fed into 3D printers. That means many wear or replacement parts that otherwise would have to sit in inventory—or worse yet, wait on shipping—instead can be 3D printed by the end user.
Check out the many packaging solutions featured by Schubert at their PACK EXPO Connects Virtual Showroom, found at PE.show/192.
Valve bag placer
A member of the Duravant family of operating companies, Hamer Fischbein  launched its new robotic valve bag placer (12) at PACK EXPO Connects. The placement of valve bags onto valve bag filler spouts is a highly repetitive, labor-intensive task. In many cases, it must be performed in very challenging, dusty environments. The 2400 VBP Robotic Valve Bag Placer automates this placement onto most valve bag filler machines on the market today and can be easily integrated into existing production lines. It utilizes up to two six-axis Yaskawa Motoman robots to place individual bags onto industry-standard filler spouts at speeds to 20 bags/min. A high-capacity, LiveLoad bag carousel capable of storing up to 400 bags virtually eliminates downtime due to bag changeover by allowing the operator to load various bag sizes at once. This unique design features dual magazines that allow bags to be safely loaded from one side of a secure cage while the robot continues to place bags onto filler spouts on the other side.
"We're committed to our customers' success, and to offering innovative packaging solutions to help increase throughput, reduce operating costs, and enable safer work environments," said Ed Pickens, Director of Engineering and Product Development at Hamer-Fischbein.
"One aspect of the 2400 that is truly unique to our design is the LiveLoad bag carousel," added Brian Bunkenburg, Senior Product Manager. "It keeps our customers up and running because they don't have to stop production to load bags or to make mechanical adjustments for bag changes. They simply load the different bag size on the carousel at any point, and it just keeps going."
Check out the many packaging solutions featured by Hamer Fischbein at their PACK EXPO Connects Virtual Showroom, found at PE.show/480.
Companies in this article
Videos from FlexLink Systems, Inc.