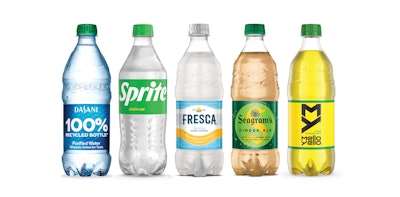 ThePackHub
Packaging continues to see a lot of change of materials driven largely by sustainability objectives. Plastic replacement is still top of the agenda for many brands and retailers as they look to switch out of the material to solutions that may offer a better environmental footprint, or at least be better received by anti-plastic focused consumers.
Learn more about ThePackHub's Innovation Zone here.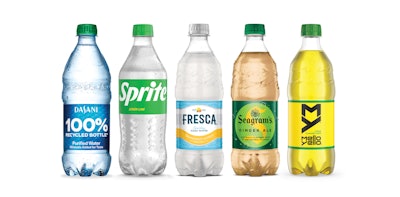 Coca-Cola Moves Green Bottles to Clear Plastic to Improve Recyclate Quality
The North American arm of Coca-Cola is moving away from green PET (polyethylene terephthalate) bottles and into clear versions instead. They have already started moving the Sprite brand into clear PET, which will be followed by the rest of the range currently in green, including Fresca, Seagram's and Mello Yello. Removing the color from PET bottles improves the quality of the recycled material. This will help increase the availability of food-grade recycled PET (rPET). When recycled, clear PET bottles can be remade into bottles, helping drive a circular economy for plastic. During the sorting process, green and other colored PET is separated from clear material to avoid discoloring the recyclate required to make new PET bottles. Because of this, the colored recyclate is often converted into single-use but longer lasting items like clothes and carpets that cannot be recycled into new PET bottles.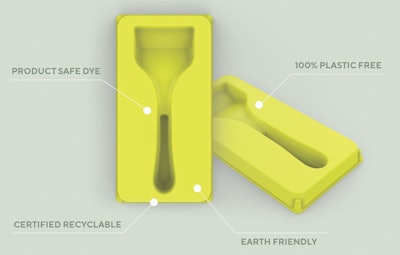 Gillette Moves to Plant-Based Fiber Tray for Razors
Procter & Gamble (P&G) brand Gillette has become the first company to introduce at scale a recyclable, plant-based inner tray. P&G wanted to avoid the typical plastic material often used for similar products. The tray, manufactured by Gilbert, Arizona-headquartered Footprint, is made from bamboo and bagasse, which were chosen because the materials are local to the facility in Asia where the packaging is being made. The tray is to be used on the launch of a new product, the Gillette Labs with Exfoliating Bar razor. Until the Gillette tray, applications using Footprint's technology have been a kraft-like colour or white. This project was unique for Footprint in that it was the first dyed product, a neon green Pantone, to match the rest of the new products' branding. To be produced in high volume, a wet-end process to support the color and achieve consistent color from part to part was required to be developed.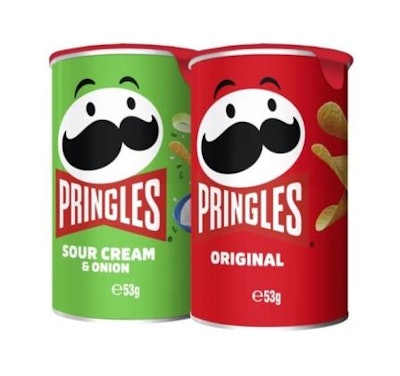 Plastic Cap Removed for Iconic Pringles Snack Pack Format
Pringles Australia is removing the plastic cap from its 53g packs. A new seal lid, supplied by Sonoco, is a multi-layer laminate structure, which is comprised of PET, paper, LDPE, MPET and PE (polyethylene terephthalate, paper, low density polyethylene, metallized polyethylene terephthalate and polyethylene). Although this material is not recyclable, removing the plastic lid will mean a 48% reduction in plastic on each 53g can, saving an estimated 26 tonnes of plastic waste per year in Australia. Kellogg's says that the new and improved seal was tested extensively to ensure its strength and improved durability. Retailer Coles has started stocking the lidless Pringles 53g Sour Cream and Onion variety, with the lidless 53g Original variety available from August. The 134g Pringles cans will remain untouched, although the change may be rolled out to more Pringles packaging in the future, presumably pending consumers' reaction.
Learn more about ThePackHub's Innovation Zone here.
Companies in this article