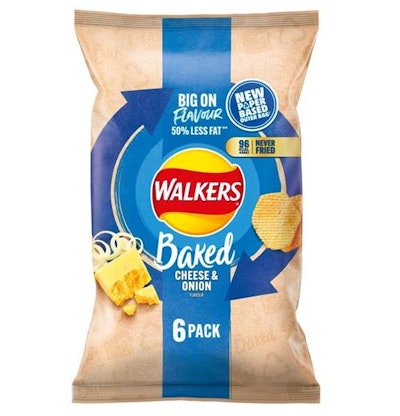 ThePackHub
Packaging continues to see a lot of change of materials driven largely by sustainability objectives. Plastic replacement is still top of the agenda for many brands and retailers as they look to switch out of the material to solutions that may offer a better environmental footprint or at least be better received by anti-plastic focused consumers.
Learn more about ThePackHub's Innovation Zone here.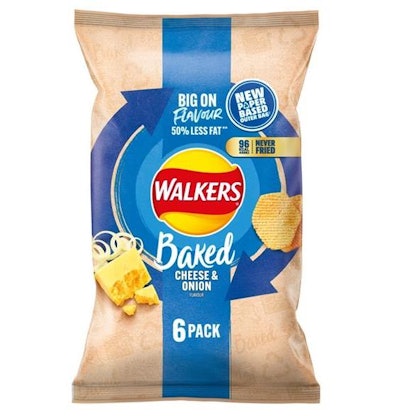 UK Chip Brand Walkers Switches to Paper-Based Multipack Wrap
PepsiCo has announced it is conducting a trial of paper-based outer packaging for two flavors of its Walkers Baked six-pack multipacks. This move aims to replace plastic and promote higher recycling rates and replaces plastic outer wrapping. The trial packs are currently available for the Walkers Sea Salt and Cheese and Onion crisp flavours, and can be purchased in over 300,000 six-pack Walkers Baked multipacks sold at 800 Tesco locations. The paper-based outer packaging can be easily and widely recycled with conventional curbside recycling. The paper-based packaging is expected to contribute towards PepsiCo's commitment to eliminating virgin fossil-based plastics from its European crisp and snack packaging by 2030, as part of its pep+ global health and sustainability transformation plan. Consumers are encouraged to provide feedback on the design and functionality of the paper-based packaging. The project took more than two years to develop, and PepsiCo hopes it will help reduce the amount of plastic waste generated from snack packaging.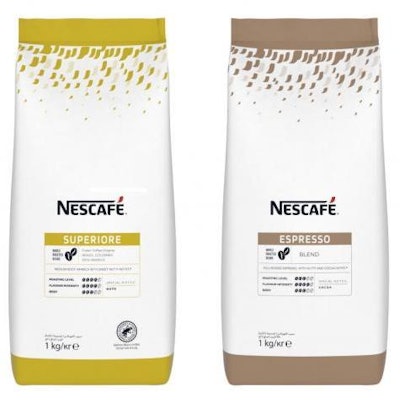 Global Food Giant Nestlé Moves Coffee Packs to Recyclable Monomaterial
Nestlé Portugal has announced that its Nescafé coffee packaging for professionals, ie, for restaurants and cafés, is now easier to recycle. The aluminium layer in the previous bag's make-up has now been removed, making it a monomaterial. Nestlé says that the safety and quality of the coffee is unaffected by the change. This move to a monomaterial means that after use the empty packs can now be recycled in Portugal's yellow recycling bins. The artwork has also been simplified, with a predominantly white palette, which the company says makes it easier to read. Nestlé has made the commitment that, by 2025, more than 95% of packaging will be reusable or recyclable, aware that the focus will always be on achieving 100%. Through this commitment, the company is making its contribution to the Portuguese Pact for Plastics –of which it is a founding member.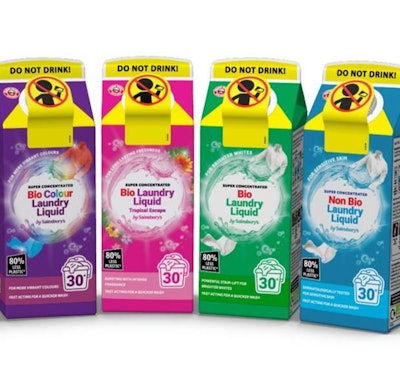 UK Supermarket Sainsbury's Replacing Plastic with Board for Own-Label Laundry Detergents
UK supermarket chain Sainsbury's has announced that it is replacing its sleeved plastic bottles for its laundry detergents to an FSC-certified (Forestry Stewardship Council) board-based carton. The carton will be supplied by the Norwegian board packaging company Elopak. The new board-based cartons are said to be 35% lighter than the original plastic packaging. The cartons are expected to take thirteen trucks off the road annually, reducing both plastic usage by 80%, and reduce carbon emissions of the own-brand laundry range by 50%. It has been calculated that the move will help save 22 metric tons of plastic waste per year. It is claimed that customers can recycle the new packaging at curbside or deposit them at recycling banks. Due to the unusual format for laundry, the packs have bright and highly visible messaging to make it clear that the contents are not to be consumed. Products moving to the new board-based carton include Sainsbury's 750ml super concentrated laundry liquid, bio super concentrated, non-bio super concentrated, color super concentrated, and lavender super concentrated lines.
Learn more about ThePackHub's Innovation Zone here.
Companies in this article