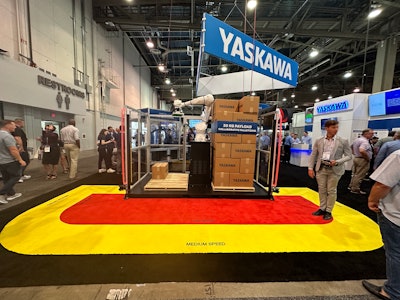 Collaborative robots (cobots) are having a transformative impact on packaging processes, and nowhere on the PACK EXPO floor was this more evident than at the Yaskawa booth. According to Memco's Peter Tosh, who was helping to demonstrate this equipment, cobots are changing the game for brand owners and consumer packaged goods (CPG) companies, offering a unique blend of safety, flexibility, and efficiency.
During their early years, cobots were certainly marvels, but still were small, low payload, and low reach machines compared to their gated, less human-friendly industrial counterparts. Early cobots were often considered fragile or unreliable, too, by comparison. But this perception has evolved over the past decade. Cobots are now larger, capable of handling heavier payloads, and possess greater reach and speed while retaining their collaborative nature.
For example, a large 30-kg payload Yaskawa cobot was operating in the booth, without any gates, as attendees milled about nearby. The 6-axis equipment, a collaborative equivalent of Yaskawa's GP series, was ,able to extend up to 6-ft. in any direction in free, open space, only gated by sensor automation affecting the palletizing robots' speed. This expanded capability opens up opportunities for tasks like large(r)-format palletizing, previously considered beyond the reach of collaborative robots.
One of the defining features of these modern cobots is their safety mechanisms. They employ sensor-based technology, such as area scanners, to detect the presence of humans or objects in their vicinity. As a result, when someone gets closer to a cobot, it automatically slows down, minimizing any potential danger. And they can be programmed to deaccelerate to a crawl immediately, or altogether halt in an instant, in closer vicinities. This level of customization ensures that cobots can be integrated into production lines without posing risks to workers.
What sets these cobots apart from their less-collaborative coutnerparts is their adaptability. They can be programmed to handle various case types, different weights, and diverse stack patterns. This flexibility is a crucial asset for brand owners and CPGs, as it allows them to respond to changing market demands and product variations seamlessly. It's even more important for contact packagers, who need to wring many different applications out of a single cobot.
It's important to note that, beyond just being safe to be around themselves, these cobots are making significant strides in actually reducing workplace injuries. With a 30-kg load capacity, they can take on the heavy lifting, reducing the physical strain on workers. This not only enhances safety but also leads to fewer workman's compensation claims, benefiting brand owners in the long run.
One impressive aspect of the demo was the use of vacuum-based grippers for handling heavy loads. In some cases, cobots can pick up loads as heavy as 185 kilograms using this technology. While it may seem like science fiction, it's a testament to the innovation driving the industry forward.
According to Tosh, collaborative robots are indeed the future of the packaging machinery industry. Robotics in general have evolved from being seen as dangerous and limited machines to becoming indispensable assets that enhance safety, flexibility, and efficiency in production processes. And as labor shortages persist and the demand for adaptable packaging solutions grows, these cobots, a subset of larger robotics, are set to play a pivotal role in shaping the future of packaging for brand owners and CPGs alike.
Companies in this article