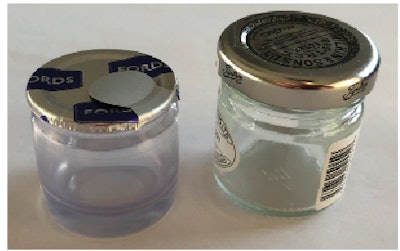 The path to sustainable packaging takes many turns, and not every turn represents an OMG moment from a technology standpoint. Sometimes it's more a matter of seeing things differently, of thinking differently, of responding to changing consumer preferences and priorities.
A good example of this kind of thing was on display at the PACK EXPO booth of Fords Packaging Systems, a United Kingdom-based firm with a long history of what's commonly referred to as "capless sealing." That is, sealing foil membranes to plastic or glass containers by way of either conduction or induction technology.
What Fords proposed at PACK EXPO was the notion that perhaps the traditional metal or plastic overcap commonly applied to a wide variety of packages isn't really necessary at a time when consumers, retailers and CPG companies are all asking for ways to eliminate anything that is not absolutely essential. One example featured at PACK EXPO was the single-serve jam jar with threaded metal cap shown here. These are commonly — almost universally — made of glass. But these glass jars must be quite heavy to withstand the hot-fill process. An additional element of heft is required because threads are needed and because too light a jar won't withstand the process of putting on a metal cap. By replacing the threaded overcap with a light-weight induction-sealed foil lid, a considerably lighter glass jar can be used because the foiling process involves very little pressure being exerted on the glass. The foil has a pull tab for ease of opening.
To learn more about what was on display at PACK EXPO International, read the full report here.
Companies in this article