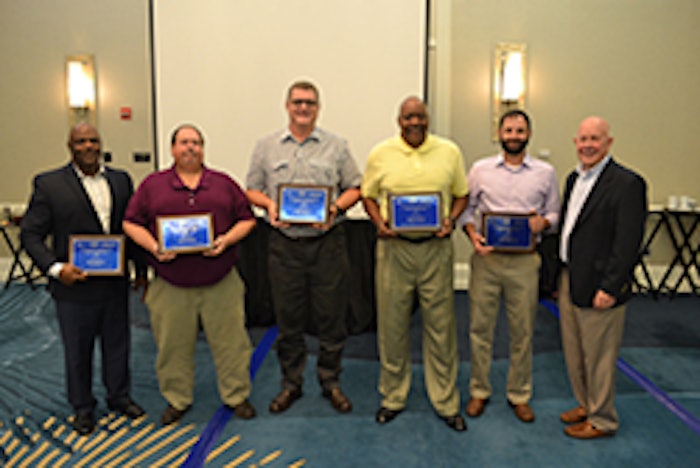 Wayne Farms LLC recently implemented a employee safety program targeting specific safety-related concerns, resulting in significant improvements in workplace safety and a reduction in accidents company-wide. The behavior-based WorkSAFE™ initiative encourages employees to identify and address unsafe behaviors, conditions, and actions through regular audits, evaluations, and collaboration with Wayne Farms management.
At the National Safety Conference for the Poultry Industry, Wayne Farms received the Award of Distinction from the Joint Industry Safety and Health Council for five separate facilities, including hatchery facilities in Dobson, North Carolina and Troy, Alabama; processing facilities in Union Springs, Alabama and Pendergrass, Georgia; and prepared foods facilities in Decatur, Alabama.
The Pendergrass processing facility won the Award of Distinction for the seventh consecutive year. Five Awards of Honor were received by the Danville, Arkansas and Laurel, Mississippi hatchery facilities; Decatur, Alabama prepared foods facility; and Enterprise, Alabama processing facility.
Award levels are based on an evaluation of each eligible facility's actual safety performance as well as a written evaluation of key components of an effective safety and health program.
"We have strong, safety-focused leadership from the top down to the plants, and great people who take safety seriously—it's paying off for everyone with a safer workplace, reduced injuries and reduced loss of time and investment," said Reggie McLee, senior director of safety and health for Wayne Farms. "We want a zero accident culture—not just in our company, but in our industry. We're extremely proud of these awards because it shows the level of commitment our employees have to a safer workplace."
The Joint Industry Safety and Health Council consists of members from the U.S. Poultry & Egg Association, National Chicken Council and National Turkey Federation. The three organizations represent companies that produce 95 percent of the nation's poultry products and directly employ more than 350,000 workers.
Wayne Farms LLC is the sixth-largest vertically integrated poultry producer in the U.S. with annual sales exceeding $1.9 billion.