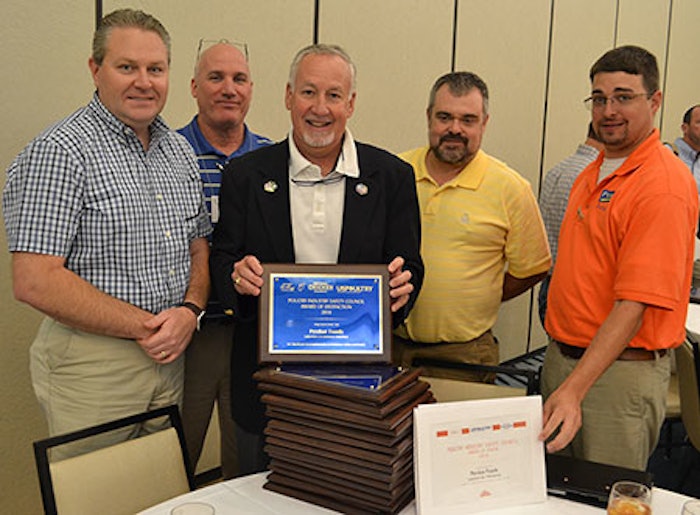 Perdue Farms' facilities in 11 states, including a dozen of the company's food-producing plants, were recognized by the Joint Industry Safety and Health Council for implementing innovative and effective safety and health processes and systems. Perdue received the awards at the 2016 National Safety Conference for the Poultry Industry.
The company's food-producing facilities that received Awards of Distinction — the Council's highest honor — include plants in Accomac, Va., Concord, N.C., Cromwell, Ky., Dillon, S.C., Georgetown, Del., Monterey, Tenn., Rockingham, N.C., and two plants in Perry, Ga. This marks the fifth straight year the Concord, Dillon, Georgetown, Monterey, Rockingham and both Perry plants have earned the Award of Distinction. The company's hatcheries in Cromwell, Dillon, Hurlock, Md., Lakeview, Calif., and Murfreesboro, N.C., also received the Award of Distinction.
The award criteria required these facilities to maintain their key Occupational Safety and Health Administration safety metrics — Total Recordable Incident Rate (TRIR), Days Away, Restricted or Transferred (DART), and Lost Work Day Incident Rate (LWDIR) — at levels at least 50 percent better than the industry average for three consecutive years. Award consideration was also based on each facility's written explanation of its safety programs and processes.
Facilities that were recognized with the Award of Honor, include food-producing plants in Bridgewater, Va., and Lewiston, N.C., along with feed mills in Forsyth, Ga., and Salisbury, Md., and a hatchery in Westover, Md. These facilities maintained their OSHA safety metrics at least 25 percent better than the industry for at least three straight years. The Bridgewater plant is a four-time recipient of the award.
In addition, Perdue facilities received the Award of Merit for maintaining their OSHA safety metrics at least 25 percent better than the industry for at least two consecutive years. Those locations included a foods-producing plant in Milford, Del, and feed mills in Elkin, N.C., and Washington, Ind. 
"These 23 facilities are recognized based on performance and their world-class business practices related to safety processes," said Frank Cruice, senior director of corporate safety and security for Perdue Farms. "Just to qualify for considered by the Council for the Award of Distinction, each site had to maintain key OSHA safety metrics of at least 50 percent better than the poultry industry average for three consecutive years. This track record validates our associates' commitment to ensure the safety of each other, and highlights the strength of our safety processes."