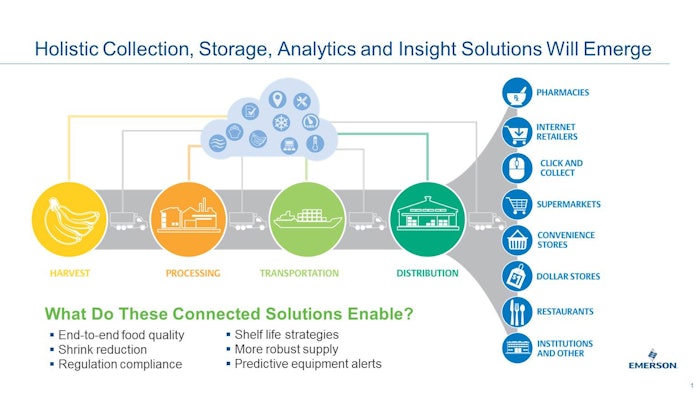 For most of the food we eat, the grocery store shelf is the end-point of a  journey that may span thousands of miles and change hands multiple times. With the requirements of the Food Safety Modernization Act beginning to take effect in 2016, food transport is coming into the spotlight for the first time, according to Emerson. 
The company is leveraging the Internet of Things to help customers meet these new requirements and protect food safety by using real-time monitoring throughout the food "cold chain." 
"Only a few decades ago, food transporters would put a thermometer in the food once it reached its destination, whether the trip was five or 500 miles," said Bob Sharp, executive president of Emerson Commercial & Residential Solutions. "Now, we have the technology to give us constant insight into food temperature from the farm to the warehouse to the store, helping to protect food safety and quality for the customers we serve."
In addtion, Emerson recently bolstered its cold chain capabilities, making it possible to preserve food safety by using small, Internet of Things-enabled sensors to constantly monitor the surface temperature of foods. The company's acquisitions of Locus Traxx and PakSense enable them to provide real-time temperature tracking and a full suite of temperature monitoring solutions to protect perishable goods through the supply chain. Combined with its advanced ProAct™ monitoring of refrigeration and food in 17,000 retail sites and more than 2,000 shipping vessels globally, Emerson now offers end-to-end technology solutions to monitor food from farm to fork.
Companies in this article