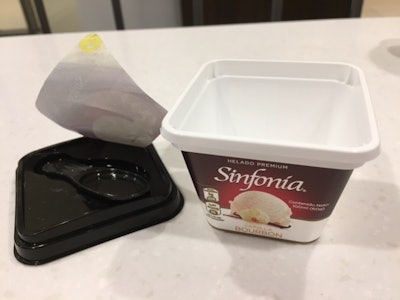 At the Grupo Phoenix booth it was ice cream and yogurt that stood out, both of the single-serve variety. From Bogota, Colombia-based Meals de Colombia comes a 60-g (2.17-oz) injection-molded PP cup for Sinfonia brand ice cream with a beautiful one-piece full-body (including the bottom) in-mold label. Copy and graphics are printed on all four sides, and because the in-mold label extends to the bottom of the cup, the bar code can go there rather than interfering with the sidewall graphics. Giving the package a decidedly premium look and feel is the black lid, also injection-molded of PP by Grupo Phoenix. It includes a slight indentation into which a spoon is inserted. Applied over the spoon by Grupo Phoenix is a pressure-sensitive label that holds the spoon in place while also carrying brand messaging. The consumer peels off the label, removes the spoon, and proceeds to enjoy a premium ice cream. Like so many packages featured at ProFood Tech, it's all about convenience and portability.
Also shown by Grupo Phoenix was a 5.5-oz thermoformed PET container of General Mills' Liberte brand organic yogurt. It was notable for its unusual tapered and triangular shape, its clarity, and its full-body shrink sleeve label. According to Paola Mejia, Key Account Manager at Grupo Phoenix, some pretty specialized positioning technology is required to get the label applied in register to the triangular and tapered cup. While the Meals de Colombia ice cream is available in South America, chiefly Colombia, the clear Liberte package is on store shelves in North America.
Produced by PMMI, Anuga, and the International Dairy Foods Association, the inaugural edition of ProFood Tech (www.profoodtech.com) runs through April 6 at Chicago's McCormick Place. The biennial show makes its second appearance March 26-28, 2019.