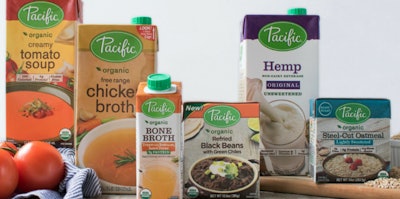 Campbell Soup Company plans to acquire Pacific Foods of Oregon for $700 million in cash. Founded in 1987, Pacific Foods is a leading producer of organic broth and soup, and also produces shelf-stable plant-based beverages and other meals and sides. Pacific Foods generated approximately $218 million in the past twelve months (net sales as of May 31, 2017). The acquisition will help Campbell's efforts to deliver real food and beverages that meet consumers' changing tastes and preferences. The acquisition will also further Campbell's efforts to drive innovation in health and well-being to reinvent the center store, while giving the company more access to natural and organic customers and channels.
Pacific Foods will become part of Campbell's Americas Simple Meals and Beverages division, which includes Campbell's soup, simple meals and shelf-stable beverage units in the U.S., Canada and Latin America. The division includes brands such as Campbell's, V8, Swanson, Prego, Pace and Plum Organics.
Founded in 1987 in Tualatin, Oregon, Pacific Foods has approximately 540 employees and operates a certified organic plant. Campbell plans to continue to operate Pacific Foods out of Tualatin. The company will maintain its farm-to-table approach with CEO and co-founder Chuck Eggert staying on as a supplier of key ingredients through his family farms.