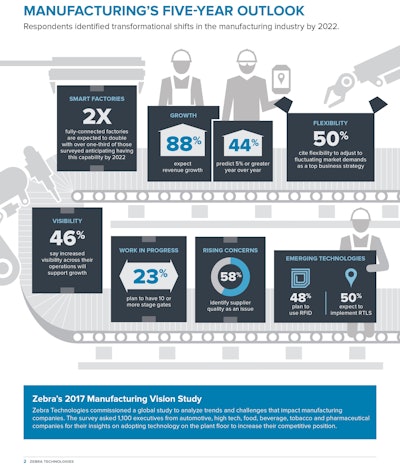 Using pen and paper to track vital manufacturing tasks may soon become a thing of the past. Manufacturers continue to adopt the Industrial Internet of Things to create an automated, connected plant floor in order to enhance operations and deliver quality products to consumers with high expectations, according to a new study from Zebra Technologies Corporation.
The Zebra 2017 Manufacturing Vision Study finds that 64 percent of manufacturers in the study expect to have fully connected, smart factories by 2022, compared to just 43 percent today. By connecting assets, inventory and equipment, IIoT provides real-time data that can help manufacturers improve productivity and streamline operations. And most manufacturers in the study recognize the benefits of that instant access to data and data connectivity: increased visibility into the entire manufacturing process; an accelerated pace in shipping and receiving; faster identification of points of failure; and deeper insights into the inner workings of their operations.
As the manufacturing industry moves toward automation, the study finds that manufacturers plan to take advantage of various technologies that will help them automate processes and increase efficiencies on the plant floor. One-half of manufacturers in the study intend to adopt wearable technology by 2022. And 55 percent of manufacturers who currently use wearables expect to expand their usage of the technology in the next five years. After all, wearables can help improve safety and increase productivity. For instance, wearable technology can monitor a worker's physical condition and record what's happening on the production line.
As manufacturers seek to eliminate the need to store excessive inventory, voice technologies will also play a key role in just-in-time manufacturing, automating processes and interacting with suppliers. As a result, 51 percent of companies in the study plan to expand their use of voice technologies in the next five years.
Manufacturers also plan to invest in technologies that will help them improve visibility across their operations. Sixty-three percent of manufacturers in the study cite tracking as a key focus in achieving better visibility. Therefore, they intend to use RFID, barcode scanning and real-time location systems to track assets in real time.
To learn more about the technologies manufacturers plan to embrace as part of IIoT, download the Zebra 2017 Manufacturing Vision Study.
Companies in this article