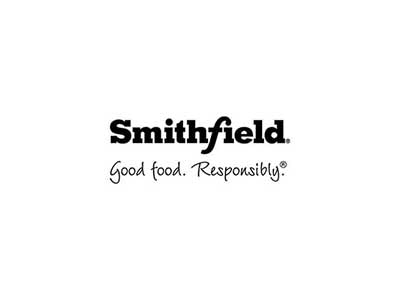 Smithfield Foods, Inc. recognized select facilities and employees for efforts in 2016 that led the company to achieve success across its sustainability pillars: Animal Care, Environment, Food Safety & Quality, Helping Communities, and People. Smithfield recognized the winners earlier this month at its annual Environmental and Sustainability Excellence Awards program.
The facilities honored for the awards program helped the company save more than 86.5 million gallons of water, more than 18.8 million kilowatts of electricity, more than 39 thousand dekatherms of natural gas and reduced more than 30.3 million pounds of solid waste generation in 2016. In addition to these achievements, employees volunteered more than 2,622 volunteer hours for charitable causes.
During the Environmental and Sustainability Excellence Awards ceremony, Smithfield president and chief executive officer, Kenneth M. Sullivan, recognized employees who have developed innovative, environmentally-sustainable solutions within company facilities throughout the year. The ceremony is part of a larger training conference designed to further engage employees in Smithfield's sustainability efforts, including a boot camp and breakout sessions as well as presentations from Smithfield leadership that covered a variety of topics from air quality to charitable giving.
In addition to the award-winning projects listed below, more information about Smithfield's sustainability program can be found in the company's 2016 Sustainability Report available at smithfieldfoods.com/2016report.
PRESIDENT'S AWARD WINNER
Sioux Center, IA
Identified and tackled challenges in the facility's wastewater treatment process and developed a solution that reduced costs, improved efficiencies and reduced stress on the local landfill.
ENVIRONMENT AND SUSTAINABILITY EXCELLENCE AWARDS
Milan, MO
Maintained an outstanding multi-year air, water and waste compliance record.
St. James, MN
Installed innovative technology to reduce electricity consumption of nearly 150,000 KWH annually.
Hermosillo, Sonora, MX
Implemented new logistics measures, which realized significant savings in freight and fuel costs while reducing carbon emissions by more than 7,500 tons.

Ilawa, Poland
Implemented new procedures to reduce both the amount of water used in production and the volume of wastewater created.

Yuma, CO
Utilized new systems to conserve water on farms, helping achieve more sustainable operations while safeguarding water resources for area farms and communities.
Middlesboro, KY
Reduced the use of materials while minimizing waste to landfills by nearly 150,000 pounds by working with suppliers to use thinner packaging film. The project won the Kentucky Excel Pacesetter Award at the 2016 Governor's Conference on Energy and the Environment.
Orange City, IA
Launched program to recycle product strapping materials, reducing waste sent to landfills.
Smithfield, VA
Revamped its Pallet Life Cycle Project, which converts used pallets to energy. Results included reducing landfill and organic waste, labor, cost, and water consumption.
Grayson, KY
Diverted more than 2,000 tons of material from the landfill in just one year, which is a reduction of nearly 50 percent.
Milan, MO
Launched an ergonomic stretching program, led by safety trainers, to improve employee health.
Laverne, OK
Supported relief efforts during the Oklahoma wildfires by supplying food, drink and provisions to local fire fighters, among other initiatives.
Timisoara, Romania
Developed visually-engaging, comprehensive employee training program that addressed animal production, bio-security, and occupational health and safety.