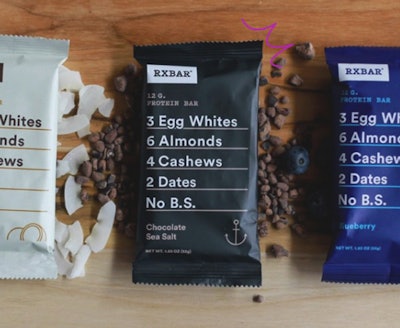 Kellogg Company has entered into an agreement to acquire Chicago Bar Company LLC, maker of RXBAR, a line of clean-label protein bars made with whole food ingredients and the fastest growing nutrition bar brand in the United States. RXBAR will continue to operate independently as a standalone business, and will leverage Kellogg's scale and resources to continue its growth.
"Adding a pioneer in clean-label, high-protein snacking to our portfolio bolsters our already strong wholesome snacks offering. RXBAR is an excellent strategic fit for Kellogg as we pivot to growth," said Kellogg Company CEO Steve Cahillane. "With its strong millennial consumption and diversified channel presence including e-commerce, RXBAR is perfectly positioned to perform well against future food trends."
With a base of egg whites, fruit and nuts encased in iconic packaging, each RXBAR provides 12 grams of protein in 210-220 calories. They are available in 11 different flavors, with additional seasonal and limited-time varieties, and are distributed in the U.S. The company also recently launched RXBAR Kids, which contain the same core ingredients as RXBARs, but in kid-friendly flavors and portions.
"We carefully considered who the right partner would be for RXBAR's future. We have always been committed to delivering the highest quality products that taste great, and being radically candid and transparent with our consumers, and these priorities remain. Joining Kellogg is not only a great cultural fit, but it provides us with the tools and resources to accelerate our growth so the brand can scale even faster than it is today," said Peter Rahal, CEO and Co-Founder of RXBAR.
The acquisition by Kellogg is expected to close by the end of 2017. The purchase price is $600 million, or approximately $400 million net of tax benefits. RXBAR's net sales are expected to be approximately $120 million in 2017.