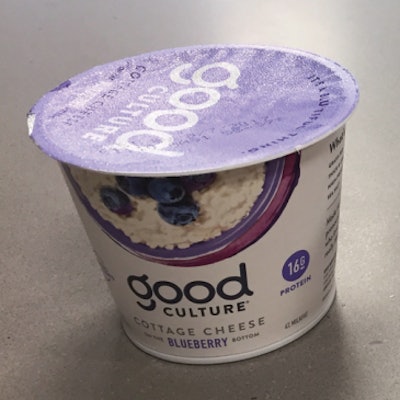 Good Culture, LLC, Irvine, CA, specializes in the production of organic and natural cottage cheeses in a range of varieties—e.g., classic, blueberry, peach, pineapple, strawberry, and Kalamata olive. Good Culture enlists a confidential co-packer to fill and seal 5.3-oz polypropylene cups enveloped by paperboard sleeves. The thermoformed PP cups are supplied by Greiner Packaging using Greiner's registered trademark K3® packaging technology.
The patented K3® cup system design features a vertical tear-open side strip, enabling consumers to easily open the product by separating the plastic and paperboard container components. Because the PP cup (thermoformed from sheet stock 1 mm thick) is protected by the paperboard sleeve, less plastic is required in each cup's construction. In addition, the paperboard sleeve offers outstanding opportunities for printing virtuosity and message space volume, as well as providing tactile distinctiveness.
Good Culture appreciated these features and decided to take good advantage of them for their single-serve cottage cheese packaging approach. The new packaging was launched by Good Culture in January 2016. Instead of a more conventional flexible film shrink sleeve system, the company is using fully decorated paperboard sleeves, printed front and back in six colors. The interior of the sleeve also is printed with product info in one color.
The contour-fitting preprinted paperboard (bleached virgin board) sleeves are received and applied at Greiner's Pittston facility where Greiner wraps the cups using specialized machinery. The wrapped cups then are sent to Good Culture's co-packer for filling and sealing. They are filled on a 4-lane filler from Modern Packaging, Inc. and sealed with die cut foil lidding.
Jesse Merrill, Co-Founder and CEO of Good Culture, LLC, says, "This container structure is simple, yet modern. We wanted to differentiate our product from the sea of commodity products in the refrigerator case and to communicate a super-premium quality story. Our product is loaded with high-quality, simple ingredients, and we needed a package that would effectively tell that story. The paper label enables us to include a significant amount of information. And the paper also creates a greater sensory experience, due to the added texture. Consumer acceptance has been fantastic."