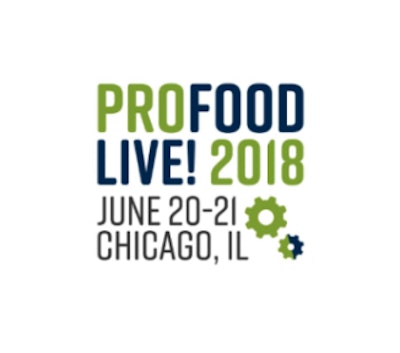 In June 2018, ProFood World's ProFood Live in Chicago will recognize outstanding food and beverage processing and packaging innovation projects via the second annual Manufacturing Innovation Awards. Attendees of the event can learn from these innovative companies and network with the leaders accepting the award on their behalf.
The Dairy Farmers of America plant in Garden City, KS, the Clemens Food Group facility in Coldwater, MI and the Farmer Brothers coffee manufacturing plant in Northlake, TX have been named the winners of the annual Manufacturing Innovation Awards conducted by ProFood World.
Each year, leading food and beverage manufacturing companies in North America submit detailed entries describing their best new manufacturing-related projects and innovative greenfield facilities to this prestigious industry-wide awards competition. The entries are judged on the use of high-level technology advancements in processing and packaging machinery; level of automation, software and controls in use; new-to-the-industry uses of technology; and major plant production efficiency and cost savings.
During a special session at ProFood Live, the following food company representatives will discuss highlights of their award-winning projects:
Wesley Clark, Director of Processing and Technology Operations, Dairy Farmers of America
Eric Patton, Senior Vice President, Clemens Food Group
Daniël Gerritsen, Director, Engineering & Operations Strategy, Farmer Brothers
"I am delighted with the high level of innovation and dedication to manufacturing excellence shown by these three outstanding food plant projects," said Joyce Fassl, editor in chief of ProFood World. "These manufacturing leaders are on the cutting edge of the food and beverage processing industry by implementing highly automated and efficient systems and embracing food safety, worker safety and sustainability in their operations."
ProFood Live is a one-day conference devoted to delivering real-world solutions in the areas of manufacturing, automation and sustainability via networking and keynote speakers. The event gives processors, suppliers and service providers the opportunity to network, learn and collaborate on common issues facing the food and beverage manufacturing industry. ProFood World's annual Manufacturing Innovation and Sustainability Excellence in Manufacturing Awards will be awarded at the conference. The event is for professionals in production, engineering, plant operations, sustainability, quality and procurement.
Other ProFood Live! sessions will include:
Addressing Today's Crucial Challenges in Manufacturing
Trends in Food Processing Operations
Managing Capital Spending Through Total Cost of Ownership
ProFood Live! opens on June 20 with an evening reception, with the conference scheduled from 8:00 am to 4:30 pm on June 21. ProFood Live! will be held at the Westin Northwest Chicago in Itasca, IL, just minutes from O'Hare airport.
Attendees can register now at www.profoodlive.com.