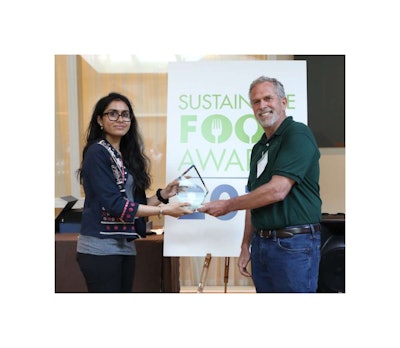 Straus Family Creamery has been presented with the Ecovia Intelligence inaugural Sustainable Food Award in the Sustainability Pioneer category. The family began dairy farming in Northern California in 1941. Albert Straus, CEO of Straus Family Creamery, converted the farm to organic and founded the company in 1994.
Since 2004, the company has been using cow manure to generate electrical power, with an on-farm methane digester reducing more than 1,600 metric tons of CO2e emissions annually. In 2017, Albert Straus launched the country's first full-scale electric feed truck to feed to the farm's 280 cows. The company has also implemented solutions, such as carbon farming practices that integrate soil building, compost application and grazing livestock.
Based on the belief innovative business practices are fundamental to the company, the creamery runs on 100 percent renewable electricity generated from wind and solar sources. It also has decreased its water usage by 30 percent in the last seven years.
Straus Family Creamery is a certified organic creamery offering minimally processed milk, cream, yogurt, butter, sour cream, ice cream, and a variety of wholesale and specialty dairy products distributed throughout the Western United States. The creamery makes its products from organic milk supplied by nine family farms in Marin and Sonoma Counties, including the Straus Dairy Farm, which is the first certified organic dairy farm west of the Mississippi River.