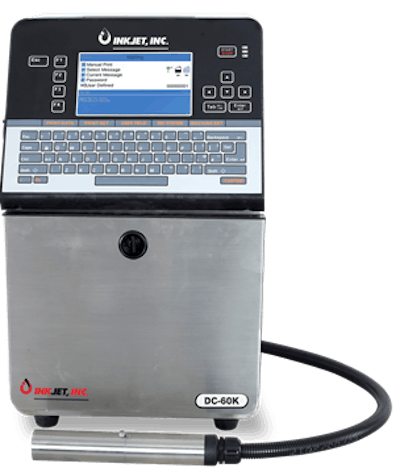 InkJet, Inc. (www.inkjetinc.com) is excited to announce the launch of DuraCode™, the company's new, reliable, and durable Continuous Inkjet (CIJ) Printer. DuraCode became commercially available this month for a wide range of industrial applications throughout the world. And at S-4260 in the South Hall of PACK EXPO, the rugged new printer was on display.
DuraCode is designed with a robust IP55-rated stainless-steel structure and delivers the best quality code continuously, day in and day out, says InkJet Inc. This printer is manufactured to withstandextreme temperatures, humidity, vibration, and other industrial environments with the added benefit of ease of operation via a high-resolution interface.
DuraCode's reliability is enhanced by InkJet, Inc.'s comprehensive portfolio of ink and make-up fluids, which undergo several quality control processes that are unmatched in the industry. This printer offers print data options through network and local scanners as well as quick filter and fluid changeouts, which ensure powerful performance with a low cost of ownership.
InkJet, Inc.'s Technical Services Group is working hand-in-hand with customers, guaranteeing the right ink for specific substrates and processes as well as installation support to ensure a stress-free experience, focused on maximizing production uptime.
"Providing the best quality, highest performing equipment and fluid to our customers is our top priority. DuraCode represents a continuation of a commitment to meeting and exceeding the expectations of our distributors and end users," explained Patricia Quinlan, Chairwoman for InkJet, Inc. "Through our ongoing product development initiatives, we anticipate and address the needs of our customers, so that we are well-equipped to deliver the right type of printer, fluids, parts and service."
For a video, go here: https://www.inkjetinc.com/products/industrial-printers/continuous-inkjet/duracode-cij-continuous-inkjet-printer/