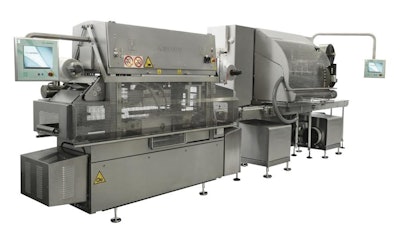 Harpak-Ulma's new Mondini Platfomer™ in-line tray thermoformer (check it out at booth S-3730) cuts rollstock film into rectangular sheets and then forms the trays using proprietary technology. The machine can produce both rectangular and square formats of varying depths up to 2.36 in. at speeds 200 trays/min, depending on the film thickness and tray design, using 98% of the forming material.
The current approved film range is from 12 to 28 mil for PET and barrier PET as well as HIPS.
A #3 case-ready tray can run up to 120 trays/min. Machine can easily and quickly change formats - typically, in in less than 10-min. Cutting edge tool design reduces changeover cost and complexity, taking a bite out of the time and costs that can burden new product introductions. This process produces a high-quality finished tray with turned-down flanges (for stability), with only 2% scrap loss versus the 15% waste typical of preformed tray production.
Those kinds of savings add up. Consider this scenario:
A single whole-muscle line running 50 trays/min of #3 padded case ready trays at 80 hours per week produces approximately 12-million trays annually. The Platformer produces that volume at a material cost of 10.7 cents per tray -- an average savings of up to 38% per pre-formed tray on materials alone, or $700k on 12 million units. An additional benefit is a 75% space reduction by inventorying rollstock versus pre-formed inventory. In this scenario, customers can create their own NEW tray formats for approximately 1/3rd cost of an industrial thermoformer.
Sustainability is an important social and business goal in our times, but it is also a fundamental aspect of lean philosophies. In the above scenario, film stock can be delivered with 22 deliveries versus 71 deliveries for pre-formed stock. That's a whopping 49 fewer truck trips and 2,744 pallets eliminated. This translates into a reduced carbon footprint (~92 metric tons), lower freight costs, handling costs as well as waste removal (340 lbs. of landfill), and storage costs.
In keeping with lean customer concepts, Mondini sought to include relevant "value-add" opportunities. A significant benefit of forming your own trays is the opportunity to emboss trays with a company's logo or insert seasonal or other marketing messages. This can be achieved at a substantially lower cost as compared to current market options.
Of course, even the most innovative solutions must pass the ROI sniff test. While ROI calculations will vary based on assumptions and inputs, some rough conclusions can be drawn based on the scenario above. Simple calculations point to an estimated annual operational savings of $770k to $1M with paybacks that range between 10 and 13 months (ROI will change based on the size of tray and output).
Kevin Roach, President of Harpak-ULMA , says, "Our customers can realize up to 38% in material savings, reduce labor as well as their warehouse space requirements, all while improving their carbon footprint. That's the very tangible impact of innovation."