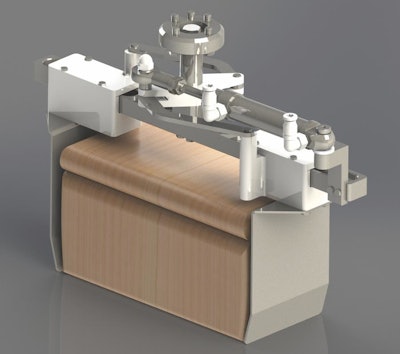 A new MAP packaging system featured in the JLS Automation booth lets makers of high-quality bread products meet their consumers' growing desire for the freshest product possible. Featuring a hygienic pick-and-place robot and new robotic end-of-arm tooling, the JLS system is designed for automatic loading of fresh bread into gas-flushed primary packages to extend the shelf life.
Explained JLS, unlike traditional solutions that require loaves of organic or multi-grain bread to be manually loaded into a thermoformer, its solution is automated, comprising the company's Talon® robotic pick-and-place system and a new robotic EOAT. Together, robot with new EOAT loads full, sliced loaves into a thermoformer for MAP packaging. In addition, a conveyor with special guides ensures the sliced loaves are handled gently and are presented to the Talon efficiently and intact.
"The demand for artisan, high-quality bread is a growing trend in the U.S.," said Craig Souser, JLS President and CEO. "The majority of breads in Europe and Australia are offered in MAP packaging. Because of the desire for extended shelf life with no preservatives associated with the product and increased demand in the U.S., this new tool and capability now fills a need for higher-end product producers."
According to JLS, the Talon is designed with the highest level of sanitation for food packaging and features four levels of sanitary construction: pick belts with a motorized roller, conveyor stand-offs that help prevent product build-up, a tool-less belt-lifting mechanism, and non-existent welds for easy, washdown cleaning. An all stainless-steel construction and a sloped control box and surfaces for run-off as well as a standard open-frame design allow for easy cleaning, access, inspection, and maintenance. An IP69K-rated stainless-steel picking robot rounds out the high sanitary features of the Talon.
Companies in this article