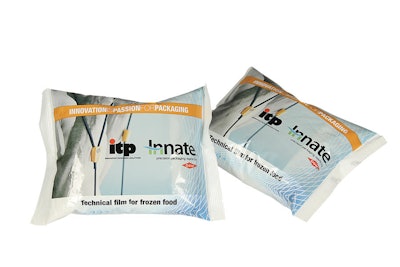 Show Daily Exclusive - A coextruded film from Industria Termoplastica Pavese (ITP), parent company of ITP USA (Booth N-4866), offers the impact and tear resistance needed for frozen food packaging. The SG series film relies on Innate® resin from Dow Chemical (Booth S-Vista Ballroom). A breakthrough, patented molecular catalyst coupled with advanced process technology allow accurate and consistent control of the resin chemistry.
"Dow's relationship with ITP dates back many years," notes Marco Amici, EMEA marketing manager at Dow. He adds, "We have built a very solid collaboration, which leverages the best both companies offer, in terms of packaging raw materials, design and final solution. Dow is very proud of this particular achievement, which, enabled by our precision packaging resin Innate, is nevertheless possible only through high-quality collaboration with ITP."
ITP's coextrusion of the Dow resin with other materials results in a high level of stiffness, toughness and sealing strength. As a result the film delivers the mechanical performance to withstand long-term exposure to -20°C, which weakens most structures. The film also offers the smoothness and processability needed on machines that run 80 bags/min., along with the puncture and tear resistance required when filling frozen food with sharp edges.
"Our experience in the field," says Simonetta Lanati, research & development manager at ITP, "teaches us that the toughness, puncture resistance and tear resistance of the film are essential key factors for the packaging of frozen products, given the increasingly frantic pace at which packaging . . . lines work."
Ease of processability with excellent bubble stability of the Innate resin, together with excellent blend capabilities and high-performance ITP extruders permit downgauging to thicknesses not typically seen in the frozen food market. Lanati reports, "The achieved puncture resistance can be translated in a depth of perforation of almost 2cm before breaking a film of 40µm with a sharp dart of 4mm diameter." This result makes the film a good candidate for duplex or triplex laminations where tear resistance can be strongly compromised by the presence of bi-oriented films.
Film with these characteristics also can be specified in other challenging applications, such as packaging for liquids, even in stand-up pouch or bag-in-box configurations. In all cases, the result is better seal integrity, less waste and fewer returns due to damaged packaging. Moreover, the reduction in thickness means a lighter package, a tangible benefit for sustainability.
For more information, visit www.itpusa.us. SD